Map and Site Information: Cheeseboro/Palo Comado Canyon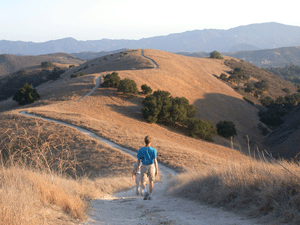 This area of Santa Monica Mountains National Recreation Area is actually in the Simi Hills. At over 4,000 acres in size, this park provides valuable habitat for an abundance of wildlife, including several species of raptors (bird of prey), coyotes, bobcats and even mountain lions. Situated just north of Highway 101, it also provides a source of open space for wild animals to potentially connect with the habitat in the Santa Monica Mountains. For over 200 years, ranchers made these canyons their homes, changing the landscape. Due to heavy grazing, much of the native vegetation was replaced by European annuals such as wild oats and mustard. Today, the land has a chance to rejuvenate, but evidence of past use still remains.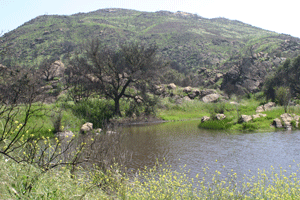 Site Info and Map
Trail Map (PDF -255K)
Current Weather
Directions
5792 Chesebro Road, Agoura, CA 91301
Ventura Fwy (101) to Chesebro Rd exit. Turn north on Palo Comado Canyon Rd then right on Chesebro Rd. Go north 1 mile to park entrance. Turn right and follow road to parking lot.
GPS Coordinates for main parking lot entrance: N 34.1543 W -118.7339


Did You Know?

Unique vistas and cultural significance often draw filmmakers to National Parks. Paramount Ranch is the only place in the National Park System where you can see movie making in action at a historic movie ranch once owned by Paramount Pictures (1927).