2013 Fire Restirctions

Due to high fire danger, fire and smoking restrictions are now in effect on all National Park Service land in the Santa Monica Mountains National Recreation Area. For details, please download the public notice or call 805-370-2301. More »
Update on Park Closures

All NPS trails are open at Rancho Sierra Vista/Satwiwa! Currently, this park site is only open sunrise to sunset.
Bike Safety & Etiquette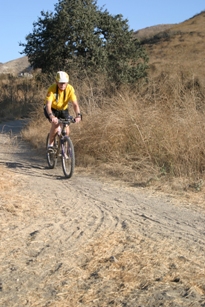 photo: NPS
Whether riding a bicycle as part of a relaxing afternoon or riding a mountain bike to become more physcially fit, riding in a multi-use enviroment requires even a higher level of awareness. Remember, safety starts with the individual!
Reading and following these tips will make sure we keep our parks an enjoyable place to visit.
Safety
• Always wear a helmet.
• Take and drink plenty of water. Carry high-energy snack foods.
• Obey all speed laws.
• Carry first aid supplies. Learn to recognize and avoid poison oak, rattlesnakes, ticks and bees.
• When riding alone, tell someone where you are going. Avoid traveling alone in remote areas.
• Follow posted instructions.

Etiquette
• Stay on designated roads and trails, and do not enter private property. Respect closures.
• Yield the right-of-way to hikers and equestrians. Announce your approach well in advance.
• Stand off to the side as oncoming horses pass, and talk to riders as they go by. Do not attempt to pass equestrians until you have
alerted the riders and asked them for permission.
• Park off the trail, even in remote areas, to keep trail clear for other users or emergency vehicles.
Resource Protection
• Do not cut switchbacks or create new trails.
• Do not disturb wildlife.
• Leave gates as you found them (open or closed) or as signed.
• Avoid muddy trails, avoid skidding, and reduce your speed in corners during turns.
• Pack out what you pack in.
Did You Know?

Four state parks were the triumph of a grassroots movement to protect open spaces minutes from Los Angeles in the 1950s & 60s. Three women, Sue Nelson, Jill Swift, and Margo Feuer further galvanized the movement that helped make Santa Monica Mountains National Recreation Area a reality in 1978.