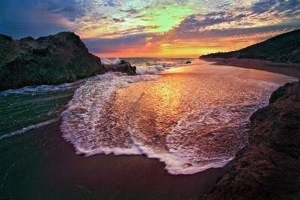 Photo: Trailmasters
The Santa Monica Mountains are full of wonder, life, and adventure. The myriad color and textures make the valleys, mountains, and oceans a unique place to photograph any time of the year.
The annual
Spirit of the Mountains Photo Contest
is just of the ways you can share your the park through you eyes. Visit the page above for contest information.
We took a group of our high school volunteers out for a day of crayfish removal!
The crayfish seen in this video are a non-native species that thrives in the waters of the Santa Monica Mountains, eating the eggs of amphibians, disrupting fragile fresh water environments and hosting a variety of unwelcome parasites. A noticeable decrease in amphibians has been attributed to crayfish predation. Crayfish are continually introduced to the Santa Monica Mountains because of their utilization as fishing bait.

Duration:

2 minutes, 25 seconds
Our biologists set up remote cameras at various sites through the park to learn more about the wildlife of the mountains. Here we see one of our collared mountain lions, P13, feeding with two cubs.

Duration:

1 minute
We're on Facebook

Become a fan of the Santa Monica Mountains.

Santa Monica Mountains' Twitter Feed

We are on Twitter; follow us today.