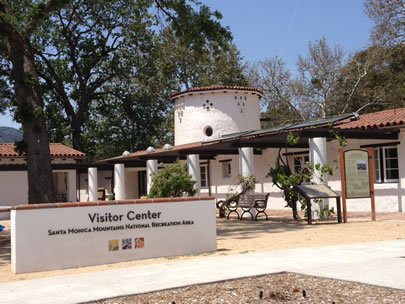 It's been sometime since hike #8 was completed; we finished it back in May. Yet, this story is just now being told. Finally.
This year has been a big year for the National Park Service in the Santa Monica Mountains to say the least. In June, we opened our first visitor center within the boundary of the park, located in the heart of the mountains at King Gillette Ranch! But this story isn't about the building or what it is; this story takes a different approach, one of a more humanistic approach…friendship.
See, hiking the Backbone Trail is much like the new interagency visitor center. Both were built upon partnership, collaboration, and trust. However the greatest benefit of all, is the friendships that are created.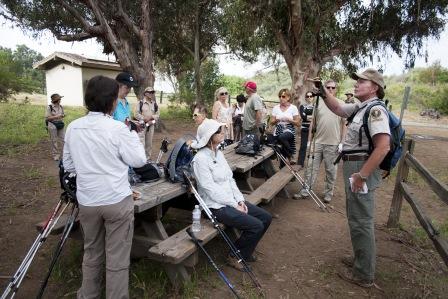 Photo by Steven Bakos
The hikers weren't all friends when we started. Meer strangers putting their faith in a group of dedicated volunteers, a young ranger that never hiked the whole thing, and one another. That's a lot to ask for when you're going to be spending many miles together over many days.
So we set out that last morning, to finish what we started, leaving the Trippet Ranch parking lot off of Entrada Road. Gathering, joining, and preparing to mobilize our herd, we talked about the 11.5 miles that awaited us as we made our way to Will Rogers State Historic Park.
After a short one mile hike, we stopped at Musch Camp to share stories, have a snack, and learn about whom Trippet was and the significance of Topanga State Park. This place also has significance from a logistical perspective. 1) It is the last place to get water before Will Rogers SHP and 2) This is the only true campground on the Backbone Trail. What better spot than to plan future adventures with our new friends.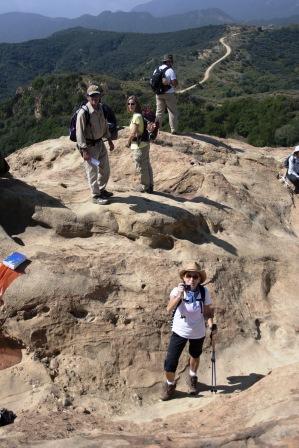 Photo by Steven Bakos
From here we began the climb up to Eagle Junction, where we were immersed in more chaparral (yes, it never ends) as we hiked towards Eagle Rock. At Eagle Junction it is important to point out that one can go one of two directions to get to the next trail intersection known as The Hub. Being that we have at this point almost completed the BBT, we chose to go left and climb up the harder way towards a landmark of Topanga State Park.
Eagle Rock sticks out of the landscape, a barren top that does not seem to go with the other mounds in the backdrop. Slightly off trail, this destination is a must stop place as you are able to look out for miles and see not only where you came from but where you are about to go. As you can see from the photo to your left, this is a great place to take photos (and photos of each other), we are friends after all.
The Hub - yeah, that's the name of it - is literally a hub of trails. When you get hear you need to make sure that you head south to the end of the trail. The other way will take you into the Valley, the Valley. You can imagine someone's angst if they took the wrong trail, especially if they were planning on ending up at the beach.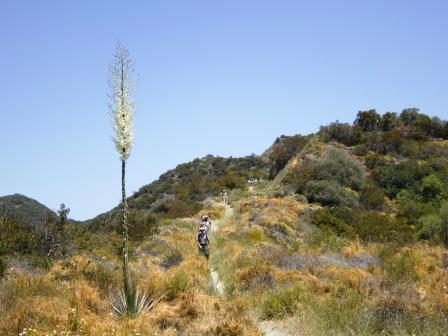 Photo by Marta Bakos
Roughly four miles in, sweat coming down our dusty faces, we hit Temescal Peak. Smiles come across our as we realize that it is all downhill from here and we know it. I must say that these parts of the hike are my favorite. While climbing to the top of a vista, peak, or summit takes your breath away, that really is the downside, it takes your breath away. On the downhill you have this opportunity to meet new people, get to know each other, share stories. You're not all out of air. Uphill does make introductions kind of strange when they end up usually as, "Hi - I'm - Ranger - Mike. "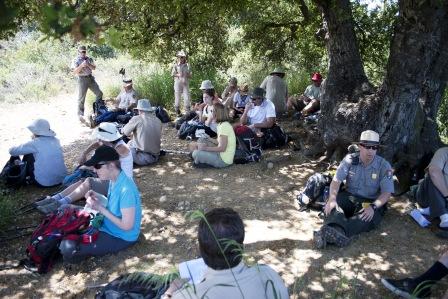 Photo by Steven Bakos
During this time, we started to reflect upon what we have just about done. Scanning the mountains and the trail in front of us, thinking about what we're about to do.
We act almost like kids at recess as we find a shady and popular oak tree to eat lunch, forgetting for a moment that we still have to hike. Sitting in our groups, we tell jokes, laugh, and enjoy each others' company, resting our legs before that final push to the bottom.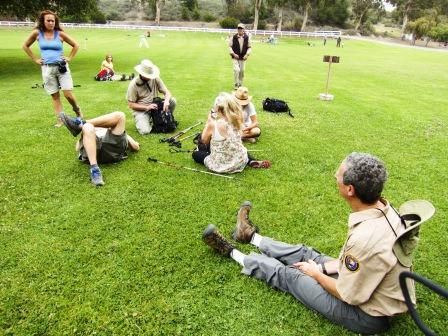 Photo by Marta Bakos
Descending down the 5.5 miles from Temescal Peak to the boundary of Will Rogers State Historic Park, we know that soon there will be cooler air at the coast where we can take a seat on the plush grass of the park, check our packs, and look at the boots that took us across an entire mountain range.
Once inside the park, there is a plethora of ways to get to the end. The route we took sent us past the stables, the ridding rings, and across that great grass area we have been dreaming of all afternoon.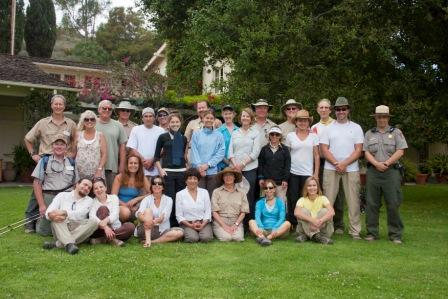 Photo by Steven Bakos
The picture to your left is the hikers who completed the Backbone Trail this year with the National Park Service.
I have to pause for a moment in time looking back at this picture. Taken a few weeks ago, there is more to it then a group of people who put on some boots, showed up early on Saturday mornings, dealt with cold temperatures, the threat of fire, or the heat of the afternoon. These hikers actively signed up for this! Why?
Each answer is going to be different for each hiker. I got to ask some of them at the end of the hike if it was worth it. Is this what you expected? These answers were different too.
As we come to the end, we must ensure we take the time to make a memory of the mountains. We must share these special places with our friends, family, loved ones, and even those who are not our friends yet.