Hike #7- National Park Week!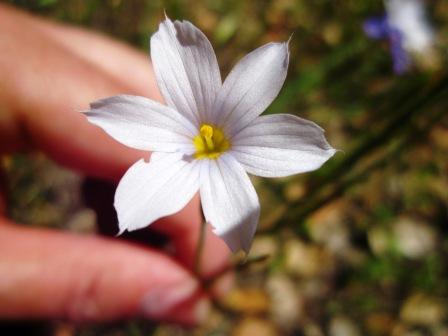 So far we've talked about all the different elements that make this place, the Santa Monica Mountains, so special. We've talked about the types of landscapes and habitats found here, the geology and flora, and even cars. Yet it is the human element that makes the most impact on our park.
Every April the National Park Service has their annual National Park Week to celebrate the places, stories, and history of our parks and country. This year's theme was Picture Yourself in a National Park. We wanted to encourage visitors to share photos of their experience in a park and tell the story from their point of view; as each park experience is so unique.
For the Backbone Trail (BBT) hikers, picturing themselves in a national park was easy. This time we hiked from the Lois Ewen Overlook at the intersection of Stunt Road, Schueren Road, and Saddle Peak Road east to ultimately end up at Trippet Ranch in Topanga State Park - normally a distance of around 6 miles.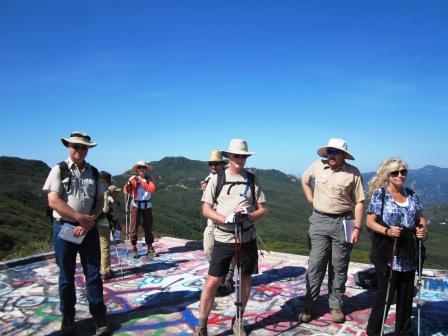 This day was different though. We decided that we were going to extend our hike and travel out to the Topanga Lookout site. This promontory gave us a bonus view of the land north of the Backbone Trail into the San Fernando Valley and beyond all the way up to the San Gabriel Mountains. This also gave us the chance to look at where we started our hike from as seen by the picture to the left. Then turning around, and picturing ourselves here, we looked east to the rest of today's hike and to our last hike in a couple of weeks.
After leaving the side trip, we finally began hiking the BBT.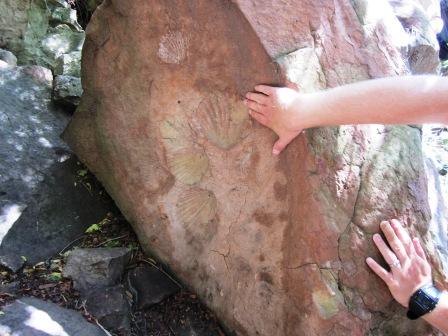 Going east from the trailhead it was a quick uphill past fossil imprints that are over 20 million years old. It's no wonder that the original name of this section was the Fossil Trail. Unfortunately over time, many of these giant bivalves have been stolen right out of the rock and in some cases the imprints have been sprayed with graffiti.
The uphill doesn't last long, just over half a mile to a ridge above Hondo Canyon. From here we are among the mountain tops. As if going on a rollercoaster for a second time, our experience has shown us that after that climb to the top, we better pause and catch our breath because we are about to go downhill!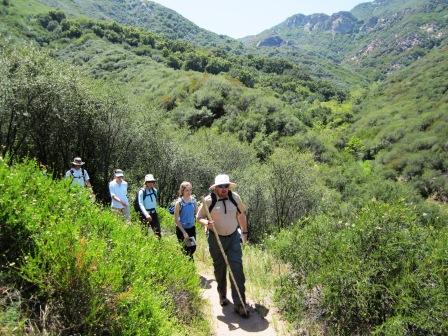 Personally I've never hiked this section of the trail before and coming down into Hondo Canyon was an amazing experience. Looking at the long deep canyons as we come out of the chaparral gave us a sense of exploring a wild environment far away from any civilization. Our group of hikers looked like a set of explorers cutting trail for the first time, seeing and smelling an unfamiliar place. Here they must have truly pictured themselves in a national park.
When we got down to the bottom of Hondo Canyon, it was time to cross Old Topanga Canyon. While well marked, caution must be taken when crossing the road. As my parents always told me, look both ways before you cross.
Now, this is where it gets confusing! So much that this is one of the most confusing parts of the BBT and has become one of our most commonly asked questions of how one continues from here. Between the trailhead on Old Topanga Canyon and Topanga Canyon Blvd there is a school. Back in the day, people use to cross through the school. No more. Remember, this is picture yourself in a national park, not picture yourself in a school.
After you cross, you have to go around a giant water tank that takes you right to the school, look behind you and up the hill, that's where the trailhead is. The State Parks have done an excellent job of signing this section of the trail and it has much improved over time.
When you finish this climb back up and then back down, you would have gone just under ¾ of a mile and ended up at Topanga Canyon Boulevard.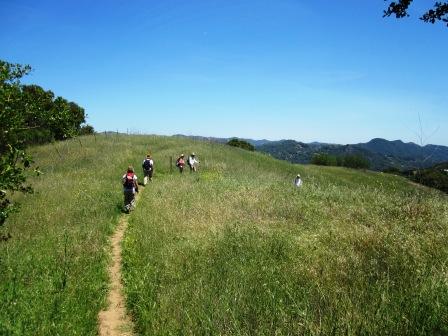 You thought crossing the first road was going to be tough, crossing Topanga Canyon Boulevard one must look both ways, twice. This is a major thoroughfare in the mountains used by thousands of people every day. Please be extra careful when crossing.
From here, you will hike just over a mile along the Dead Horse Trail towards the main area of Topanga State Park. The trail will take you through more chaparral - of course - and then into another oak savannah. You see, the part you come into was once known (and still is called) Trippet Ranch. One the weekends, you will find a visitor center open there during the busy times of the year and when docents lead walks.
Clearly the hikers on the Backbone Trail have pictured themselves in a national park. Have you?
------------------------------------------
Completed mileage so far is: 57.4
To learn more about the sections of trail we hiked, you can visit the information page by clicking the name of the section: Stunt, Scheueren and Saddle Peak Roads to Topanga State Park.
(Click here to return to the 2012 Backbone Trail Blog homepage.)