Hike #4 - Hey Look! More Chaparral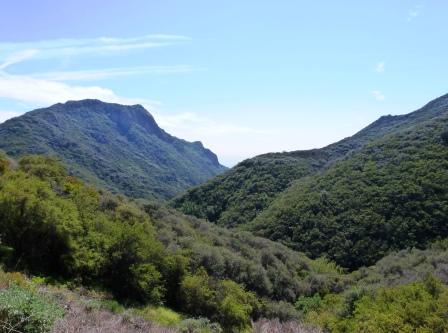 Suprise! There's more chaparral on this hike. The Backbone Trail is this 60 mile plus meandering path that crosses many different microclimates, topographical variations, and geographical zones. It is only natural we would come across different plant communities due to these factors.
However, there is one plant community that we see over and over and over again. Any visitor that has experienced it can tell you that it's something else. If you've traveled through this community, you might laugh and appreciate that to some it seems that once you've seen chaparral, you've seen chaparral.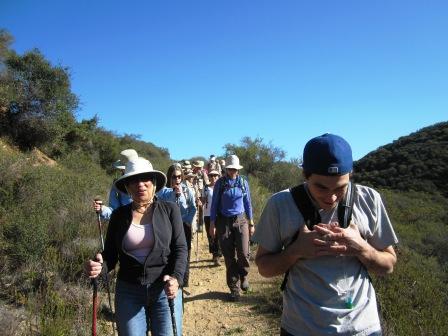 Being immersed in that scrappy, thick, and sometimes prickly vegetation is not at all like hiking through a desert or rain forest. Generally there are more plants than Death Valley and a whole lot fewer trees than Olympic. No snow like that of Yosemite or Glacier. It's just chaparral. Once you've been in it, you get to know it pretty well - just like the BBT hikers do.
On the Backbone Trail, we hike roughly 50 miles literally through chaparral. Don't get me wrong but 50 miles is a long distance to keep seeing the same thing over and over again. How many times can one get excited about the same species of plant over and over again if plants aren't their favorite thing in the world? For example, I can just hear someone being facetious and saying "Yay! Another laurel sumac," or "Check it out, more Ceanothus!" For miles and miles, it just looks the same… or does it?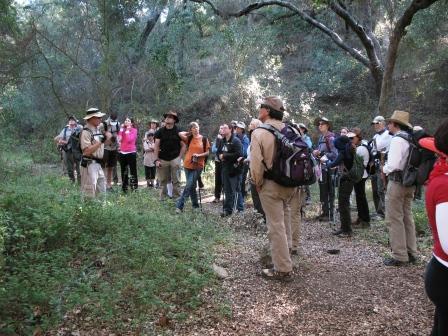 The navigation for this trail is generally easier than the last segment. It's up and down and in and out of canyons and over ridges. We started at the Encinal Canyon Trailhead and began with a descent into Trancas Canyon. At the bottom we found a dense oak woodland, a welcome variation from the chaparral that we were about to climb back up into. For about 2 miles we hiked out Trancas Canyon to the top of the Zuma Ridge Trail. Took a breather and then went back down as we headed towards the bottom of Zuma Canyon. This hike goes through some of the largest watersheds in the park gives us the perfect opportunity to see the small stuff - now that we are very familiar with the large stuff - we're talking about plants of course.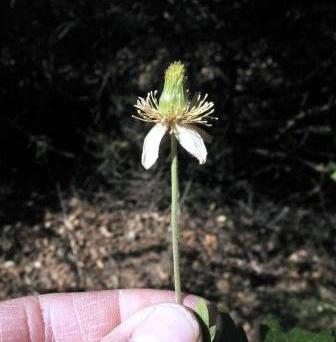 It's not uncommon that we get bogged down or bored by the repetitive nature of the chaparral (if you couldn't tell by my tone). Hiking up and down and up and down and up and down though canyons and over ridges we felt as if being in the chaparral may never end. We may blow by some of the finer details and miss out on those little stories found there. So we must take the time to look closely at the plants we've become so familiar with and see what else is there.
As we hike though Zuma Canyon for another 2.5 miles on our way to the Newton Canyon Trailhead we come near the point where Zuma Canyon and Newton Canyon intersect on our way out of Zuma Canyon. Sounds kind of confusing? Because it is. So much, this is a spot where we get a lot of search and rescue calls. Visitors try to further explore the canyons and get turned around looking at the chaparral covered hill sides - as I've been saying, it can all look the same.
But having a good map and staying on trail, you can study this plant community and realize that it becomes its own paradox - obvious but complex.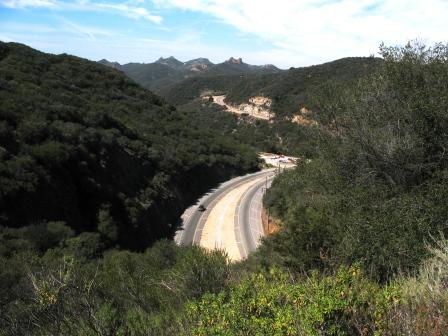 Crossing over Tunnel #1 on Kanan Road, we climb back up as we head to towards the top of Newton Canyon. For another mile or so we rise, not quite reaching the top yet as we come across another canyon - this time a feeder to Newton Canyon - and have to drop back down again.
Getting use to this up and down, we can spend even more time focusing on the plants. It also helps us forget the burning of calf muscles and the aching of knees from this perpetual motion as we make our final climb out for the day on our approach to the Latigo Canyon Road Trailhead and finish that last half a mile.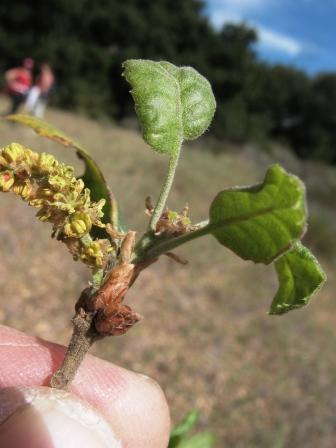 Arriving at the trailhead surrounded by chaparral, we breathe in deeply, filling our lungs with the rich oxygen that this community has provided us over the last 7 miles. I don't want to say that we have a love /hate relationship with our Santa Monica Mountains chaparral, but we kind of do. Sometimes we hate the work that has to go in to experiencing it, but we love the adventures it provides. For if it wasn't for the myriad plants in the chaparral community, this story and our story, would have been just bogged down and boring.
------------------------------------------
Completed mileage so far is: 34
To learn more about the section of the trail we hiked, you can visits the information page be clicking on the name of the section: Backbone Trail from Mulholland Hwy (mile marker 5.2) to Latiofo Canyon parking area.
(Click here to return to the 2012 Backbone Trail Blog hompage.)