Hike #1 - An Amazing First Trek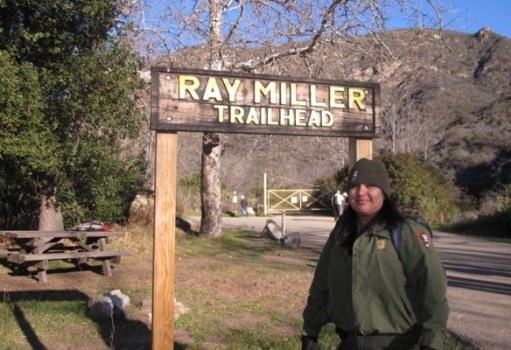 What an amazing first trek! Hike #1 started off with a great opening of the volunteers introducing themselves to the wondrous group of 30 BBT hikers. Eager to start, folks mingled and finished their last minute preparations for the first 8.1 mile trek of the Backbone Trail. A few took the time to take photos near the Ray Miller Trailhead that is located in Pt. Mugu State Park.


It was a chilly morning and I couldn't wait to get going and start warming up. As we treaded through the trails, our leader mentioned to us that throughout our 8.1 mile journey, not to focus on the end point. Instead, use this time to reflect and enjoy the journey as we go through the time of the Chumash, discover the realm of the various plant communities located in these areas and enjoy the beautiful views of the ocean and Channel Islands.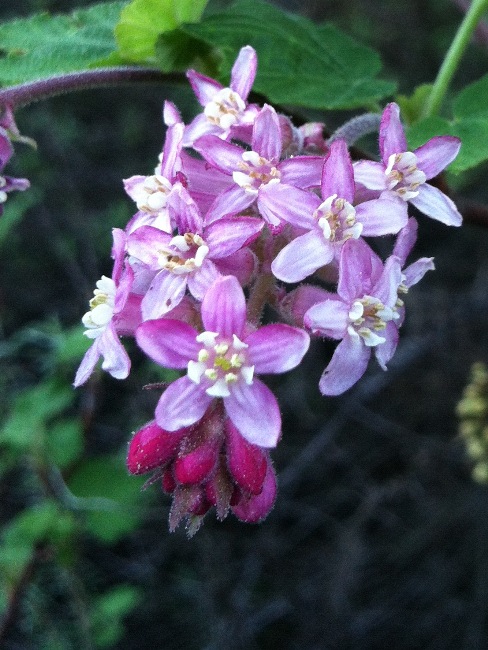 I will admit my biggest weakness is my knowledge, understanding and appreciation for plants. I hope to absorb and retain some knowledge of new plants or at least wildflowers through this hiking program. We traveled through several plant communities, such as coastal sage scrub, oak woodland and Sycamore savannah. Only one flower seemed to start to bloom. Later I learned it was the Chaparral Currant that attracted my eyes and it blooms from October through March. It is a shrub that grows approximately three to six feet high and has small pinkish flowers. If you would like to see it yourself check out Pt. Mugu State Park trails. You still have time to see them in full bloom.

Everyone left with smiling faces at the end of our wondrous journey. As I reflected upon our 8.1 hike I realized that I took some amazing pictures, met really nice folks, and to top it off, learned about a few new plants and flowers. I am pretty stoked to see what the second hike will entail. Stay tuned for the next blog! - Ranger Razsa.
Excursión #1 - Un excursión increíble


¡El primer viaje fue increíble! La caminata inició con una gran introducción de los voluntarios de ellos mismos con el grupo de 30 excursionistas maravillosos. Ansioso por empezar, la gente se mezclaba y terminaron sus preparativos de último minuto para la primera caminata de 8,1 kilómetros de la ruta troncal. Unos pocos se tomaron el tiempo para tomar fotos cerca del sendero de Ray Miller, que se encuentra en Pt. Mugu State Park. Yo también aprovechó la oportunidad para tomar algunas fotos al lado de la señal del sendero.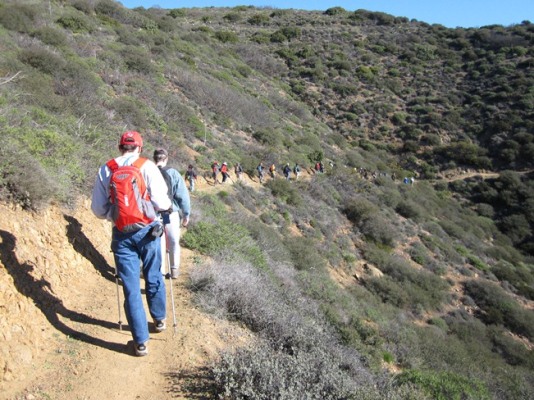 Era una mañana muy fría y no venía la hora más pronto para empezar en camino y empezar a calentar el cuerpo. Pisando por los senderos, nuestro guía nos mencionó que a lo largo de nuestro viaje no concentrarse en el punto final del viaje. En vez, utilice este tiempo para reflexionar y disfrutar el viaje a medida que avanzamos a través del tiempo de la Chumash, descubrir el reino de las diversas comunidades de las plantas ubicadas en estas áreas y disfrutar las hermosas vistas del océano y las Channel Islands.

Admito mi mayor debilidad es mi conocimiento, la comprensión y apreciación para las plantas. Espero poder absorber y retener un poco de conocimiento de nuevas plantas o flores silvestres. Dicho esto, sí aprendí algunas cosas nuevas de la caminata. Viajamos a través de varias comunidades de plantas, tales como matorrales de salvia costera, bosques de roble y sicómoro sabana. Sólo una flor parecía comenzar a florecer. Más tarde me enteré de que era la grosella Chaparral que cautivó mis ojos. Las floraciones son de octubre a marzo. Es un arbusto que crece aproximadamente de tres a seis pies de alto y tiene flores pequeñas de color rosado. Si usted le gustaría verlo, usted mismo puede hacer una visita a Pt. Mugu State Park y camina sus senderos. Aún hay tiempo a verlos en plena floración.

Nuestro viaje terminó con caras sonrientes. Mis reflexiones eran agradables y por si fuera poco, tomé algunas fotos increíbles, conocí agente agradable, y aprendí de algunas plantas y flores nuevas. Hasta la próxima excursión - ¡Nos vemos!