Earthquakes in the Santa Monica Mountains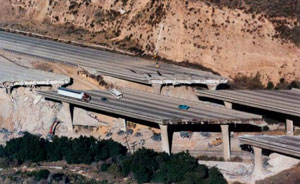 California, especially the Los Angeles area is home to movie stars, famous beaches, traffic, and earthquakes. These "quakes" are as much as part of this landscape as oak trees and coastal sage scrub. It can even be reasoned that without earthquakes, the Los Angeles Area and the Santa Monica Mountains, would never have developed a Mediterranean ecosystem.
Seismology is the study of earthquakes and the structure of the earth. Through this study we can analyze and understand how the earth moves.
Earthquakes are the only natural disaster whereby we have no idea where the next one is going to be - kind of. "When is the 'Big One' going to his Los Angeles?" is a question for the ages, but we can study the past and present as a way of looking to the future.

The map below shows the Santa Monica Mountains in the middle. Each red line represents a fault line.
Bounded by faults all the way around the range, the two most prominent fault sets in the mountains are the Sycamore Canyon and Boney Mountain Faults at the western end of the range and the Malibu Coast Fault that runs east-west along the coastal boundary of the park.

In 1995, a study was done by James Dolan and others that shows after they analyzed 51 different sources that in the last 200 years there should have 17 major earthquakes in the Los Angeles Area; there have been 2.
The Santa Monica Mountains preserve the scenery that was created by forces that control our planet. We'll just have to wait and see what happens next, because tomorrow there will still be earthquakes.