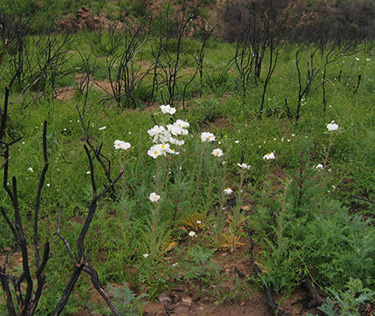 Recovery from Fire
The native vegetation of the SMMNRA evolved with a fire regime of large, infrequent crown fires. Recovery occurs endogenously, from existing plant parts, either through resprouting or seed germination from the seed bank.
Not Fire Dependent
Many studies have shown that repeated fires at short intervals will eliminate chaparral shrub species and can promote establishment of non-native annual weeds. On the other hand, studies of long unburned chaparral show no decline in the ability of the community to recover, even after more than a century without fire. "Old-growth" stands of unburned chaparral have unique characteristics and are a valuable natural resource.
Fire Regime
The modern fire regime of the SMMNRA is one dominated by large, wind driven crown fires that occur in the fall and are started by human activity. The average fire return interval (time between fires) is just 30 years because of the large increase in human ignitions as the population has grown. Under this current fire regime, fire is a threat to the resilience of chaparral to recover from fires that occur too frequently. The probability of fire return is too high for there to be any threat to ecosystem resilience from too long a fire-free interval. Download a poster of fire history maps.