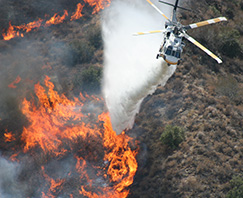 Large fires driven by Santa Ana winds have dominated the fire history of the Santa Monica Mountains as far back as there is evidence to assess. Analysis of charcoal in sediment cores collected in the Santa Barbara Channel suggest that large weather-driven fires have occurred more or less regularly throughout the last 600 years (Mensing, Michaelsen, and Byrne, 1999.
Large weather-driven fires continued to occur steadily through the Chumash Indian times, the Spanish, Mexican, and American ranching periods, and modern times. The fact that large fires have continued to occur steadily though different historic periods with very different approaches to fire suppression suggest that the incidence of large fires is primarily determined by fire weather, and that it is substantially unaffected by even our best modern attempts at fire suppression.
Indigenous, native American peoples first came to southern California 12,000-14,000 years ago and settled in villages about 8,000 years ago. Best available evidence suggests that they used fire to manage portions of the landscape for food and material production, near their homes, and along their trails, but that they did not deliberately light large scale fires. Periodic large charcoal deposits in offshore sediments were apparently the result of large Santa Ana-driven wildfires.
Ranchers in the late 19th and early 20th century also lit large scale fires in shrublands in many parts of southern California in order to produce more palatable forage for cattle.