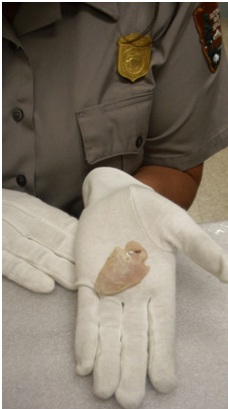 Natural History Collections
The intent of the park's natural history collections is to support scientific research and resources management; to ensure quality environmental educational opportunities for park visitors, researchers, and the public; provide baseline data of park natural resources; document changes these resources are undergoing because of internal park conditions and external effects; provide a database for researchers concerned with resources used by the park's prehistoric occupants; and preserve important or locally significant species collected in response to specific research on interpretive needs.
The collections include a herbarium of over 400 specimens, paleontology collection containing over 200 specimens, and associated records of the natural history collections.
Access and Hours of Operation
Appointments are required to visit the Museum Research Center, which is generally open Monday-Friday during regular business hours (except for federal holidays and special closures).