Professional Development
Are you a teacher interested in spending the summer in a national park? The national Teacher-Ranger-Teacher program offers classroom teachers a stipend to work 6-8 weeks in a national park, develop curriculum-based materials, and share their park experience with their students.
Teacher-Ranger-Teachers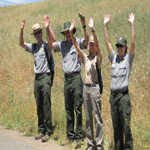 Teacher-Ranger-Teachers in action
Learn More
Santa Monica Mountains National Recreation Area offers free professional development workshops throughout the year. Workshops vary in length from a few hours to 3-days, and are conducted in various locations throughout Los Angeles and Ventura counties.
Teacher workshops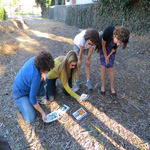 Teachers look at pictures for class project.
Learn More