2013 Fire Restirctions

Due to high fire danger, fire and smoking restrictions are now in effect on all National Park Service land in the Santa Monica Mountains National Recreation Area. For details, please download the public notice or call 805-370-2301. More »
Update on Park Closures

All NPS trails are open at Rancho Sierra Vista/Satwiwa! Currently, this park site is only open sunrise to sunset.
Professional Development
Are you a teacher interested in spending the summer in a national park? The national Teacher-Ranger-Teacher program offers classroom teachers a stipend to work 6-8 weeks in a national park, develop curriculum-based materials, and share their park experience with their students.
Teacher-Ranger-Teachers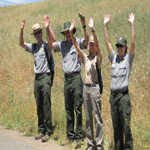 Teacher-Ranger-Teachers in action
Learn More
Santa Monica Mountains National Recreation Area offers free professional development workshops throughout the year. Workshops vary in length from a few hours to 3-days, and are conducted in various locations throughout Los Angeles and Ventura counties.
Teacher workshops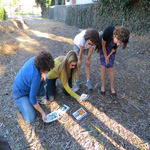 Teachers look at pictures for class project.
Learn More