Central Wharf Restrooms Closed

The Central Wharf public restrooms will be closed on Thursday and Friday, September 18th and 19th for exterior door replacement. They are scheduled to reopen on Saturday at 9am.
Fishing Prohibition on Hold

On 8/20/14 the park issued a rule change prohibiting fishing throughout the park due to concerns over water quality and visitor safety. The fishing prohibition is now on hold, pending further review - click for more information. More »
Donate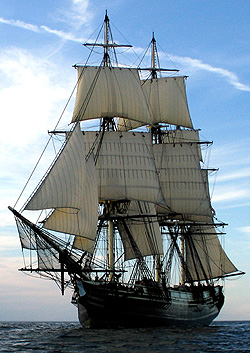 Courtesy of Sarah Waterworth
Thank you for your interest in supporting Salem Maritime. Your donation will enhance the programs and activities to protect park resources and provide visitor services for Salem Maritime. Philanthropic contributions continue to make a significant difference and we welcome and are grateful for your support.
Salem Maritime is able to accept direct donations. If you are interested in donating to the directly to the park you may contact Superintendent Michael Quijano-West by phone, 978-740-1680.
Donations may also be sent to:
Superintendent Michael Quijano-West
Salem Maritime National Historic Site
160 Derby Street
Salem, MA 01970
---
If you wish to support the National Parks in general, the National Park Foundation is the congressionally-chartered national philanthropic partner of the National Park System. The National Park Foundation stewards a tradition of private support for the parks begun by the American people more than a century ago. Your support for the National Park Foundation ensures that the evolving history and rich heritage of our Nation remains vital and relevant. For more information contact them at:
National Park Foundation
1201 Eye Street, NW, Suite 550B,
Washington, DC 20005
Phone: (202) 354-6460
www.nationalparks.org
Did You Know?

During the American Revolution, Salem was the most successful privateering port in America. Salem's 158 privateering vessels captured 445 English vessels.