The Salem Maritime Festival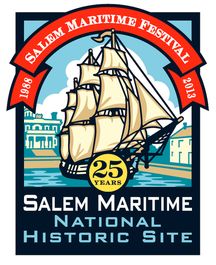 Come Celebrate Four Centuries of Salem's Maritime Heritage!

Saturday, August 3rd, 2013
12 - 4:00pm
Music, Demonstrations, Exhibits, and Children's Activities will be available throughout the park and on Derby Wharf. The 2013 Salem Maritime Festival is hosted by Salem Maritime, your national park in Salem in cooperation with the Essex National Heritage Commission.
Event Contact Information
Kathy Homan, Park Ranger
Kathleen_Homan@nps.gov - (978) 740-1652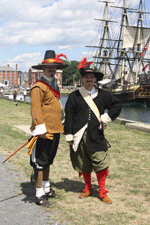 NPS Photo
What's in store for you at the 2013 Festival?
Live Music
Free 90-minute Harbor Cruises
Friendship of Salem Ship Tours
Numerous Kids Activities including the Junior Ranger Program
Boat Tours & Demonstrations
Opportunities to Cruise, Sail, Paddle, Row Salem Harbor
Traditional Craft Demonstrations
Seaside Kite-flying
Muck Walk, featuring "Life at Low Tide"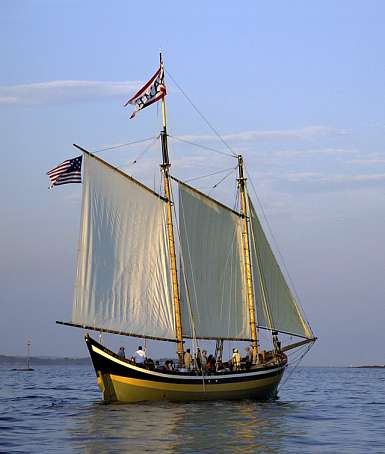 Courtesy of Schooner Fame
2013 Harbor Cruises

Probably the most popular feature of the Salem Maritime Festival are the free, 90-minute boat rides around Salem Harbor on:
- Schooner Fame, a full-scale replica of a War of 1812 Privateer
- Ardelle, a Gloucester Schooner
- Sea Shuttle's Endeavour, come aboard and learn about the marine science of Salem Sound!

All Salem Maritime Festival visitors are invited to enter a drawling for one free boat ride on the vessel of their choice. Tickets may be secured via an onsite lottery on the day of the Festival. Random drawings at the Harbor Cruise Tent on Central Wharf will be held 30 minutes prior to each cruise departure.Ticketed passengers (only) should be prepared for immediate departure down the Central Wharf gangway, and will come aboard, meet the crew and join in the hands-on activities. NOTE: All children under the age of 16 years must be accompanied by an adult.

Live Music at the 2013 Festival

Ricardo Monzón Orchestra @ 12:00 and 1:00pm
Ricardo Monzon is Associate Professor of Percussion at the Berklee College of Music and part of a network of Latino musicians throughout the East Coast. His orchestra specializes in music from the Dominican Republic (Bachata and merengue) and other Latin American styles. They were awarded "the best performance of the Tito Puente concert series" in 2010. This is a very energetic 12 piece band, with the bestmusicians in Massachusetts, from different countries, including Cuba, Dominican Republic, Hawaii, Sweden, Guatemala, Puerto Rico, Venezuela, Australia and the USA, with an authentic sound for this music.
Sharks Come Cruisin'
@ 2:00pm
Sharks Come Cruisin' plays an energetic mix of original and traditional sing-along songs, keeping the
themes of audience participation and celebration at the center of their music and live performances. SCC
has played several festivals up and down the east coast, from Florida to Maine, and had the opportunity
to play with Dropkick Murphys, The Loved Ones (Fat Wreck Chords), and Lemuria (Bridge Nine Records).
They have been compared to Flogging Molly, The Pogues, and Against Me!, and have been described
as sea shanty punk, Irish punk, and folk punk. Michael Bilodeau, Bass and Vocals, Jonathan Cannon,
Fiddle, Mark Lambert, Guitar and Vocals, James Toomey, Drums, Erik Wohlgemuth, Banjo, Erica Sachs, Melodica
New Bedford Harbor Sea Chantey Chorus @ 3:00pm
Hosted and organized by the Schooner Ernestina, this 43-member chorus was created in 2001, and is made up of some of the Ernestina's most vocal volunteers. The repertoire includes a variety of chanteys and songs that reflect the rich maritime heritage of New Bedford, and the region. Sea Chanteys were traditionally sung as work songs on board sailing ships both as a way to pass the time and as a means of helping establish a rhythm for various types of work aboard the ship.
As a sampler of musical traditions connected to New Bedford Harbor and the New England seafarer, their performances feature the chanteys of the Yankee sailor, along with the ballads and ditties of global mariners and coastwise fisherfolk in North America, the Cape Verde Islands, and the British Isles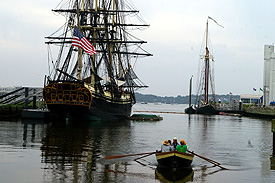 NPS photo
Visiting & Participating Vessels

Schooner Fame, Full-scale replica of a War of 1812 Privateer
Schooner Ardelle
Sea Shuttle's Endeavour
Lewis H. Story, authentic replica Chebacco Boat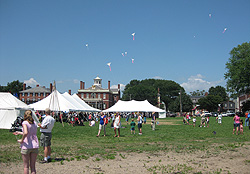 NPS photo
Children's Activities
Radio controlled boats and kite-making are only some of the children's activities that will take place on the historic wharves. There's an entire Children's Tent of fun crafts to do. Kids can also tour the tall ship Friendship of Salem, and earn Junior Ranger badges by participating in scavenger hunts and other fun activities.On the Derby Wharf beach, the Salem Sound Coastwatch will sponsor a muck walk. Learn about life at low tide in Salem Harbor. Boots will be provided.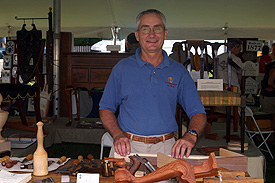 NPS photo
Demonstrators and Exhibitors
Hands-on demonstrations and other activities will be scattered around the park. Traditional crafts like
spinning, coopering, traditional small craft building, and model shipbuilding will be exhibited in working demonstrations.
This year's exhibitors and demonstrators!
Shipwrecks of New England
Essex County Hand Spinners
Linda Corcoran Chair Caning
Essex County Hand Spinners
USS Constitution Model Shipwright Guild
Marine Modelers Club of New England
American Textile History Museum
Marlinspike Sailor of Marblehead
Linda Lane Lace Making
Norumbega Canoe Club
Ould Colony Aritsans
Furniture Institute of MA
Soy Negra Productions
R.P. Raiseles Cooperage
Color of India
Essex Shipbuilding Museum
Historic New England
Cat Cove Marine Labs SSU
Div. of Marine Fisheries
Peabody Essex Museum
US Coast Guard Auxillary
Witch House/ Corwin House
Salem Common Neighborhood Assn
Traditional Small Craft Association
Peabody Essex Museum
Salem Kayaks
Sea Side Kites
Salem Sound Coastwatch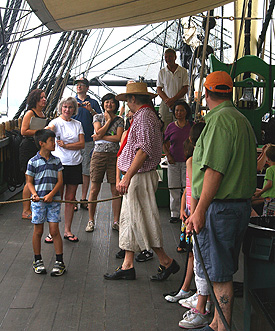 NPS Photo
Friendship of Salem

The tall ship, Friendship of Salem, will be open from 12pm to 4pm, with hands-on cargo loading and sail setting activities, Junior Ranger booklets, and National Park Service Rangers and Volunteers to introduce visitors to the lives of sailors, captains, and merchants in the Great Age of Sail.
Did You Know?

The Regional Visitor Center in Salem was once the drill shed of the Salem Armory. The Armory was built by the Second Corps of Cadets, a unit of the Massachusetts National Guard. More...