The Salem Maritime Festival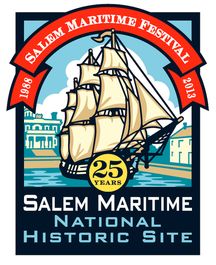 Help us celebrate four centuries of Salem's maritime heritage, annually at Salem Maritime National Historic Site!
View the 2015 Maritime Festival Official Program and Schedule

This year's Maritime Festival was hosted on Saturday, August 1st.
Each year, music, demonstrations, exhibits, and children's activities are available throughout the park and on Derby Wharf. The Salem Maritime Festival is hosted by Salem Maritime, your national park in Salem in cooperation with the Essex National Heritage Commission.
Event Contact Information
Kathy Homan, Park Ranger
Kathleen_Homan@nps.gov - (978) 740-1652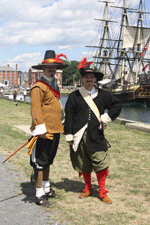 NPS Photo
This year's Maritime Festival included a variety of family-friendly events, including:
Live Music
Free 90-minute Harbor Cruises
Friendship of Salem Ship Tours
Numerous Kids Activities including the Junior Ranger Program
Boat Tours & Demonstrations
Opportunities to Cruise, Sail, Paddle, Row Salem Harbor
Traditional Craft Demonstrations
Participating Exhibitors and Demonstrators for 2015
Salem Kayaks
Norumbega Canoe Club

USS Constitution
Marlinspike Sailor of Marblehead
Musician Larry Young

R.P Raiseles Cooperage
Essex Shipbuilding Museum
Marine Modelers Club of New England
Salem Sound Coastwatch
Historic New England
Cat Cove Marine Labs
Division of Marine Fisheries
U.S. Coast Guard
Peabody Essex Museum
House of the Seven Gables
Witch House / Corwin House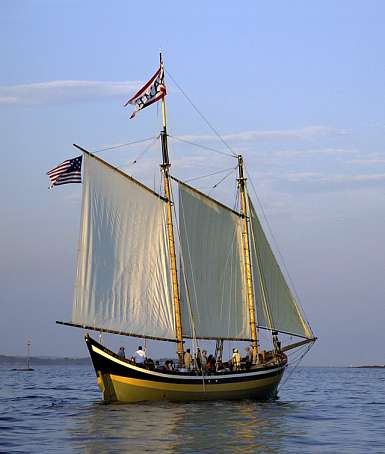 Courtesy of Schooner Fame
Harbor Cruises

Probably the most popular feature of the Salem Maritime Festival are the free, 90-minute boat rides around Salem Harbor. This year's participants were:

- Schooner Fame, a full-scale replica of a War of 1812 Privateer
- Ardelle, a Gloucester Schooner
- Sea Shuttle's Endeavour, come aboard and learn about the marine science of Salem Sound!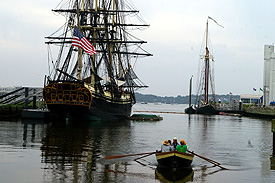 NPS photo
Visiting & Participating Vessels

Schooner Fame, Full-scale replica of a War of 1812 Privateer
Schooner Ardelle
Sea Shuttle's Endeavour
United States Coast Guard Patrol Boat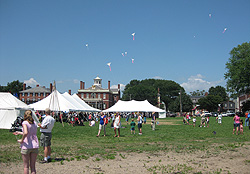 NPS photo
Children's Activities
Children's activities take place on the historic wharves, where families can find an entire children's tent of fun crafts to do. Kids can also tour the tall ship Friendship of Salem, and earn Junior Ranger badges by participating in scavenger hunts and other fun activities.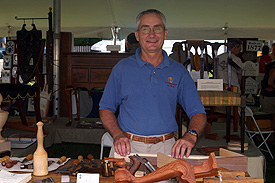 NPS photo
Demonstrators and Exhibitors
Traditional crafts like spinning, coopering, traditional small craft building, and model shipbuilding will be exhibited in working demonstrations and hands-on activities.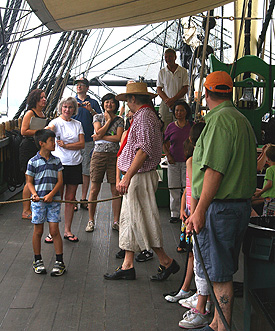 NPS Photo
Friendship of Salem

The tall ship, Friendship of Salem hosts hands-on cargo loading and sail setting activities, Junior Ranger booklets, and National Park Service Rangers and Volunteers to introduce visitors to the lives of sailors, captains, and merchants in the Great Age of Sail.