Central Wharf Restrooms Closed

The Central Wharf public restrooms will be closed on Thursday and Friday, September 18th and 19th for exterior door replacement. They are scheduled to reopen on Saturday at 9am.
Fishing Prohibition on Hold

On 8/20/14 the park issued a rule change prohibiting fishing throughout the park due to concerns over water quality and visitor safety. The fishing prohibition is now on hold, pending further review - click for more information. More »
"By His Excellency's Command:" General Gage and the British Army in Salem
General Gage and His Troops Return to Salem, July 20-21, 2013!

Saturday and Sunday, July 20-21, 10AM to 4PM

Download a complete schedule for the weekend here. This is a pdf file. To read it, you will need the free Adobe reader available from the link on the right hand side of the page.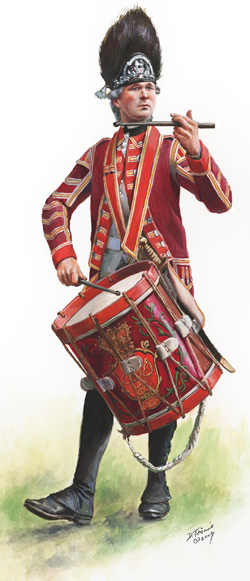 Courtesy of Don Troiani
In June of 1774, General Thomas Gage, the newly-appointed Governor of Massachusetts, arrived in Boston with some controversial orders in his pocket: move the Capitol of Massachusetts to Salem, where calmer heads would hopefully prevail after several years of upheaval in Boston. He was wrong. During that summer, the Massachusetts legislature defied him, sent representatives to the first Continental Congress, and rejected his authority as Governor, setting in motion the events that culminated in the Battle of Lexington and Concord.
To commemorate that event, Salem Maritime, the National Park in Salem, and the Center for 18th Century Life at Minute Man NHP are once again hosting a British Encampment at Salem Maritime on July 20-21, 2013. The National Park Service has invited some of the best re-enactors in Massachusetts to portray General Gage, his staff, his troops, and the legislators and civilians that he met in Massachusetts.
More resources
Salem in 1774

Revolution in Massachusetts!

This event is one of a series held by National Parks throughout eastern Massachusetts in the summer and fall of 2013. For more information, follow the link below! Read More

Download Adobe Reader for pdf files for free

This link will take you to the Adobe web site Read More
Did You Know?

The Regional Visitor Center in Salem was once the drill shed of the Salem Armory. The Armory was built by the Second Corps of Cadets, a unit of the Massachusetts National Guard. More...