"By His Excellency's Command:" General Gage and the British Army in Salem
Salem Maritime National Historic Site has hosted several British Encampments in past years, and plans to provide this exciting event for the public again in the future. Check back with us for updates on upcoming programs.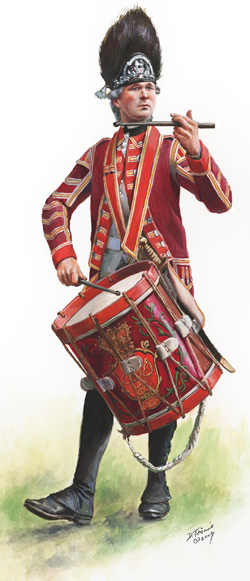 Painting of a male soldier dressed in red, playing a drum. Painting signed by Don Troiani.
In June of 1774, General Thomas Gage, the newly-appointed Governor of Massachusetts, arrived in Boston with some controversial orders in his pocket: move the Capitol of Massachusetts to Salem, where calmer heads would hopefully prevail after several years of upheaval in Boston. He was wrong. During that summer, the Massachusetts legislature defied him, sent representatives to the first Continental Congress, and rejected his authority as Governor, setting in motion the events that culminated in the Battle of Lexington and Concord.
To commemorate that event, Salem Maritime, the National Park in Salem, and the Center for 18th Century Life at Minute Man NHP hosted a British Encampment at Salem Maritime National Historic Site on the Derby Wharf. The National Park Service invited some of the best re-enactors in Massachusetts to portray General Gage, his staff, his troops, and the legislators and civilians that he met in Massachusetts.
Salem Maritime National Historic Site hopes to host this encampment again in future years. Stay tuned for upcoming events!
British Encampment 2011

8 Photos

Photographs from the 2011 reenactment of General Thomas Gage's move of the Massachusetts Capitol to Salem in 1774