The West India Goods Store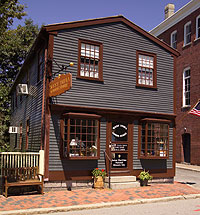 NPS photo
The term "West India Goods Store" was used in Salem as a generic term for a retail shop selling items from all over the world, not just the Caribbean.
This store was built by Captain Henry Prince about 1804 and was probably first used as a warehouse, where Prince kept goods like pepper, coffee, water buffalo hides, and tortoise shells that he imported from the East Indies. The first documented use of this building as a West India Goods Store was in 1836. The structure underwent numerous changes throughout its history, including two moves, before it was rehabilitated in 1928 by the Society for the Preservation of New England Antiquities (now Historic New England). The National Park Service acquired the property in 1937.
For More Information
Shopping at Salem Maritime today
About the history of shops and trade in Salem
Pickled Fish and Salted Provisions
Links to our occasional publication on subjects associated with Salem Maritime National Historic Site. These issues relate to the West India Goods Store or to the items that would have been sold in Salem shops.