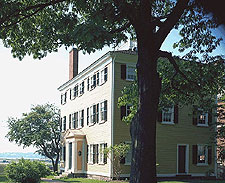 NPS photo
This house was designed by famous Salem architect Samuel McIntire for Elias Hasket and Elizabeth Derby. Construction began on the building in 1780.
The Derbys, however, never completed the house. Instead, they moved away from the waterfront to a house in the center of town. The unfinished building was purchased and completed around 1800 by Benjamin Hawkes, who owned a shipyard next to Derby Wharf.
The Hawkes House is a fine example of the large Federal style homes built throughout Salem in the late 18th and early 19th centuries. These three-story tall, square buildings usually featured a beautifully carved and painted entrance and many windows to let light and air into the gracefully decorated rooms.
Visting the Hawkes House
The Hawkes House is the administrative office building for Salem Maritime. It is not open to the public at this time.
For More Information
On Architecture in Salem:
Download Architecture in Salem: A Guide to the Historic City Center (2.6M pdf) Coming Soon!
On Samuel McIntire:
The Peabody Essex Museum holds a large collection of Samuel McIntire's work. They will be hosting an exhibit on his carving in October 2007. This link will open in a new window.