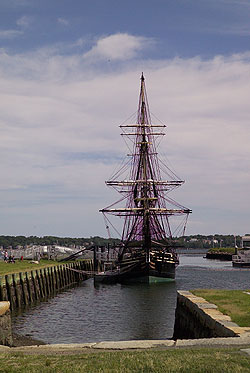 NPS photo
Latest News of the Friendship of Salem
The fall of 2013 is the beginning of a two-year "down-rigging" period in which the ship's mast, spars and rigging will be systematically removed for inspection, repair and/or replacement through the fall of 2015. This ship will be available for tours on a regular basis, but is unable to host any special events or private functions during this period.
The Salem East Indiaman Friendship was launched in 1797. She made 15 voyages during her career to Batavia, India, China, South America, the Caribbean, England, Germany, the Mediterranean, and Russia. Built for the Salem mercantile firm Waite and Peirce in the South River shipyard of Enos Briggs, she ended her activities as an American merchant vessel when she was captured as a prize of war by the British Sloop of War HMS Rosamond in September 1812.
The replica of Friendship was built by the National Park Service using modern materials and construction methods while retaining the appearance of the original ship.