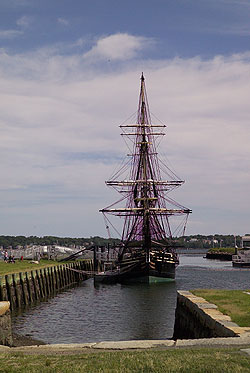 NPS photo
Latest News of the Friendship of Salem
The fall of 2013 is the beginning of a two-year "down-rigging" period in which the ship's mast, spars and rigging will be systematically removed for inspection, repair and/or replacement through the fall of 2015. This ship will be available for tours on a regular basis, but is unable to host any special events or private functions during this period.
The Salem East Indiaman Friendship was launched in 1797. She made 15 voyages during her career to Batavia, India, China, South America, the Caribbean, England, Germany, the Mediterranean, and Russia. Built for the Salem mercantile firm Waite and Peirce in the South River shipyard of Enos Briggs, she ended her activities as an American merchant vessel when she was captured as a prize of war by the British Sloop of War HMS Rosamond in September 1812.
The replica of Friendship was built by the National Park Service using modern materials and construction methods while retaining the appearance of the original ship.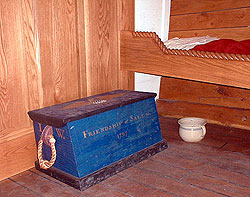 NPS photo
The Crew of an East Indiaman
The captain, or master, of a vessel had absolute power of command aboard ship. He was legally accountable for every aspect of the operation of the ship, the activities of her crew and the safe delivery of all cargo entrusted to his care. The great cabin, located at the stern of the ship, was the captain's private space, office and dining room.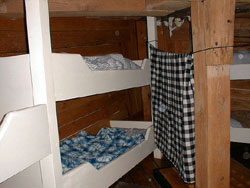 NPS photo
Aboard merchant and whaling ships, bunks were provided for the crew in the living area called the forecastle in the bow of the ship. Although damp, poorly ventilated and sometimes stifling or freezing, the arrangement was more comfortable than the hammocks and overcrowded conditions aboard naval vessels.
Visiting Friendship:
Friendship is open all year, weather permitting. For a schedule of tours, please visit our Operating Hours and Seasons page.
For more information:
Download the Friendship of Salem site bulletin (128 KB pdf file)
Issues of Salem Maritime's occasional newsletter, Pickled Fish and Salted Provisions
"Partners for Eternity" Volume 1, Number 7 (125 KB pdf file)
"Figureheads" Volume 2, Number 3 (89 KB pdf file)
"Tall Ships, Small Ships" Volume 2, Number 5 (70 KB pdf file)
"Seaman's Clothing in Friendship's Era" Volume 3, Number 2 (113 KB pdf file)
"Shoes, Ships, and Survival" Volume 3, Number 3 (379 KB pdf file)
"Repeat Performance" Volume 3, Number 4 (coming soon)
"Rats" Volume 3, Number 5 (coming soon)
"Fire and Lights" Volume 3, Number 6 (127 KB pdf file)
"Mary's Little Lamb" Volume 4, Number 3 (coming soon)
"Walk Away With the Cat, Walk Away With the Fish" Volume 4, Number 4 (331 KB pdf file)
"The Medicine Chest" Volume 6, Number 3 (228 KB pdf file)
"The Arms Chest" Volume 7, Number 1 (136 KB pdf file)
"The Great Age of Duck" Volume 7, Number 4 (916 KB pdf file)
"What's In a Name?" Volume 8, Number 3 (539 KB pdf file)
"Are We There Yet?" Volume 8, Number 4 (798 KB pdf file)
"A Salem Clipper" Volume 8, Number 5 (4.8 M pdf file)
"What Ship is That?" Volume 8, Number 6 (762 KB pdf file)