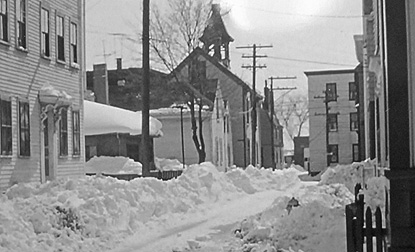 Courtesy of Joseph Kulik
This former firehouse at the corner of Derby and Bentley Streets was a meeting place for several of Salem's Polish organizations between the 1920s and the time it burned down in the 1960s. These groups included the Polish Falcons in the early 1920s, the Chopin Choral Society in the later 1920s and 1930s, and veterans' groups, including the Polish Legion of American Veterans, starting in the 1940s.
Click on the links above to learn more about these groups, which reflected different time periods and generational experiences in Polish Salem.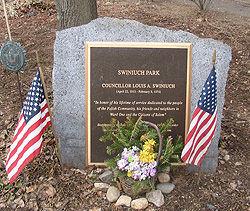 Courtesy of Cathy Stanton.
After the firehouse burned, the lot remained empty for several years. Then, in February of 1974, former city councilor and Polish community leader Louis Swiniuch died at the age of 60. His son Richard had just been elected to his own first term on the city council, and Richard found it sad that his father was not there to see his son's inauguration into the city's political world. One of Richard's first projects as a city councilor, along with others who had served with his father for many years, was to turn the former firehouse site into a small park dedicated to Louis Swiniuch. Tourists and local people often stop to enjoy the beautifully landscaped spot.
Back to Salem's Polish Community
Download In the Heart of Polish Salem

Learn about the rich history of the Polish community in Salem Read More