Central Wharf Restrooms Closed

The Central Wharf public restrooms will be closed on Thursday and Friday, September 18th and 19th for exterior door replacement. They are scheduled to reopen on Saturday at 9am.
Fishing Prohibition on Hold

On 8/20/14 the park issued a rule change prohibiting fishing throughout the park due to concerns over water quality and visitor safety. The fishing prohibition is now on hold, pending further review - click for more information. More »
The Second Corps of Cadets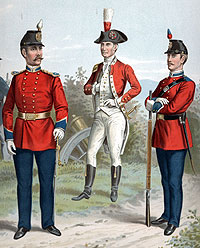 Courtesy of Tom Moran
We are very sorry, but the Second Corps is on an encampment at present. Please return to this page soon.
Did You Know?

During the American Revolution, Salem was the most successful privateering port in America. Salem's 158 privateering vessels captured 445 English vessels.