Central Wharf Restrooms Closed

The Central Wharf public restrooms will be closed on Thursday and Friday, September 18th and 19th for exterior door replacement. They are scheduled to reopen on Saturday at 9am.
Fishing Prohibition on Hold

On 8/20/14 the park issued a rule change prohibiting fishing throughout the park due to concerns over water quality and visitor safety. The fishing prohibition is now on hold, pending further review - click for more information. More »
Parks as Classrooms
Bring your students to Salem Maritime. The park offers programs and tours for children grade three through college and beyond.
Field Trip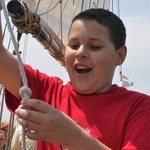 Salem Sets Sail
Learn More
Prepare your students for a visit to Salem Maritime and extend their learning after your visit.
Lesson Plan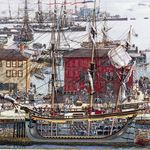 Wharves of the World
Learn More