Park on Winter Schedule

The American Camp Visitor Center is closed Thanksgiving Day, re-opening Friday. Winter hours: 8:30 a.m. to 4:30 p.m., Wednesday-Sunday. The English Camp Visitor Center is closed for the winter. Grounds at both units are open from dawn to 11 p.m. daily. More »
Weather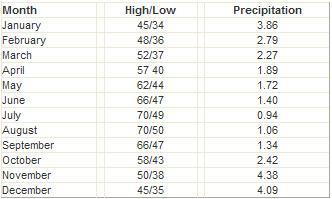 The weather on San Juan Island is extremely variable. Visitors should come prepared for a wide range of conditions. Rain gear and layered clothing are essential.
Overall, the San Juan Archipelago has a moderate marine climate with pleasant summers and mild, wet winters.
Summers tend to be fair and warm, with high temperatures between 65 and 75 degrees F. July, August and September are the driest months, with heavier precipitation during the rest of the year.
While winters are mild at lower elevation, with temperatures in the 30's and 40's, snowfall can be heavy during some winter storms.
At any time of year, visitors should come prepared for a variety of conditions. The Seattle office of the National Weather Service provides up-to-date weather information and forecasts.
Did You Know?

First Lieutenant James W. Forsyth was Capt. George E. Pickett's second in command on San Juan Island. Forsyth would become a brigadier general in the Civil War and go on to command the 7th Cavalry at the Battle of Wounded Knee Creek in 1890.