Directions and Transportation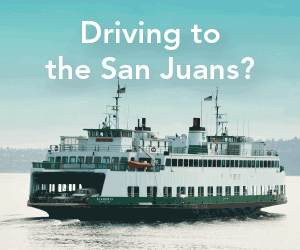 San Juan Island is the second largest island in the archipelago of the same name, which is located in the Strait of Georgia between Vancouver Island in British Columbia and the U.S. mainland.

The island is served by Washington State Ferries, several private cruise and shuttle craft and three air carriers. Greyhound bus and Amtrak provide service to Mount Vernon, where passengers can take local transit or taxis to Anacortes. One airport shuttle carries passengers from Seattle-Tacoma International Airport directly to the terminal several times a day. Another offers rides to and from the island once a day.

The ferry system began accepting vehicle reservations in early December for travel from Anacortes to the San Juan Islands for crossings starting January 5, 2015.

You can find important information about how the reservation system works on the Washington State Ferries website at this link. The website contains many documents that can help to answer your questions, including:

* Frequently Asked Questions. Answers to the most frequently asked questions about the reservation system.

* No-show fee. Information on cancellation and no-show fees. and;

* How to Make a Reservation. Step-by-step written and video instructions on making a vehicle reservation for account users.

For detailed information about other transportation options and directions, please click on the links at left.