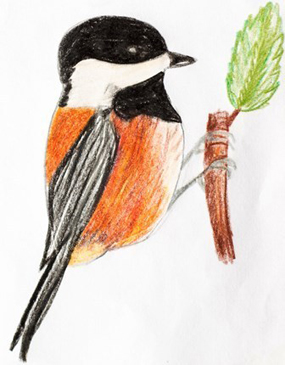 Spring Street International School
At first only a few of the students drew, while others researched and/or wrote descriptions, Massey said. But eventually all 11students involved in the project began to draw, and each student's knowledge and skill evolved with every bird depicted. After only a few weeks the students had compiled more than 20 drawings, eventually topping out at 78, she said.
On science class days, the students focused on birding utilizing, in part, pre-established bird boxes. The students spotted, sketched, recorded the species of bird based upon the nests they found, and eventually cleaned the vacated boxes, Massey said.
"We were inspired by the work of Roger Tory Peterson and David Sibley, and while we are fully responsible for the inaccuracies in our bird illustrations, we learned a lot about our local birds through this project and decided to call our book a Book of Birds, rather than a field guide, "Massey wrote on the web site. "While you might not be able to ID every bird in our book from our illustrations, we hope the book helps you fall in love with birds the way we did!"
"That is just fantastic--I love this!" said Lee Taylor, park superintendent "The students did an amazing job accurately representing the birds and infusing them with artistic expression; thanks to all who contributed."