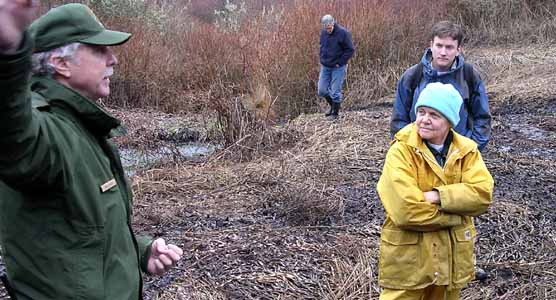 Julie Stein Photo
No large sources of surface freshwater are located within the park. However, a number of small springs and seeps exist that are significant because they support natural, historic, and scientific resources in the park. Springs and seeps are the manifestations of underground water (groundwater) that has reached the earth's surface.
The riparian vegetation that surrounds them reveals these sources. Surface water ponding is the primary source of much needed freshwater that supports wildlife populations such as amphibians, migratory songbirds and mammals.
During the 1998 Wetland Inventory of the park wildlife and signs of wildlife (nest, tracks, scat) were observed at the sites of springs and seeps. Wildlife sightings included common snipe, river otter, red fox, pacific tree frog, northern red-legged frog, red-winged blackbird, common yellowthroat, bald eagle, American crow, northern harrier and red tailed hawk.
Several historically significant springs are located on South Beach near the end of the Salmon Banks Road. American soldiers chose these springs as the site of their second camp in 1859 and later developed a wagon road to bring water to their third and final camp location.
This same spring also provided freshwater for prehistoric Native Americans whose summer camps were located nearby as well as for the Hudson Bay Company's sheep.
Other springs and seeps near Grandma's Cove provided potable water for the Hudson Bay Company's Belle Vue Farm and subsequent homesteaders.