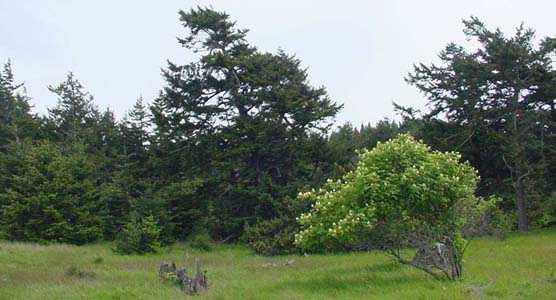 NPS Photo
Everything we hear is part of a soundscape, just as everything we see is part of a landscape. Noise pollution, like water and air pollution, is unhealthy for humans, and can negatively impact wildlife as well.
Soundscapes are a topic of concern as the park drafts its new
General Management Plan
.
Our modern world has seen a great proliferation of loud, intrusive human-made sounds that mask the sounds of nature. Natural sounds may be subtle, pleasant, and relaxing, such as the rustle of prairie grasses or the call of a loon, the pitch of high winds and the crash of waves.
Unfortunately, the opportunity to experience natural soundscapes without the intrusion of human noise is becoming increasingly rare. Even on rural San Juan Island, tranquility is shattered by airplanes, boats, traffic, chain saws, loud music, and yard machinery. Silence and natural soundscapes are a dwindling resource.
Concern has been growing over noise pollution and the diminished opportunities to experience natural soundscapes. Individuals, organizations, and agencies are examining the extent and impact of noise pollution, discussing options to reduce or eliminate noise pollution and seeking ways to promote natural soundscapes.
To learn more, see
NPS Soundscape Preservation and Noise Management
.
While visiting San Juan Island National Historical Park take a moment to listen quietly. How many sounds are natural, how many are created by humans? National Parks strive to promote and provide opportunities to enjoy natural soundscapes.