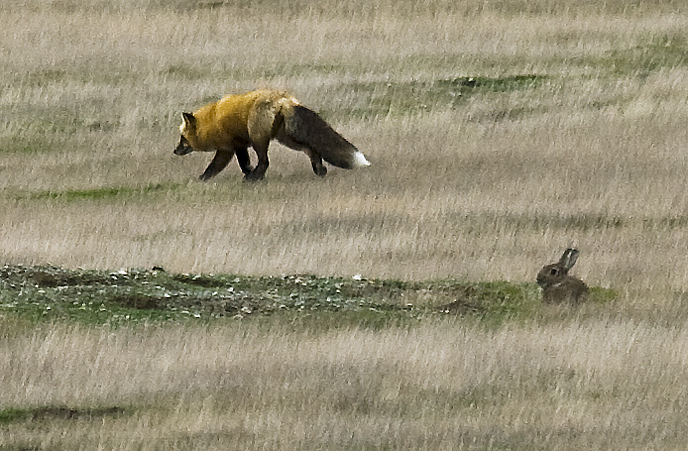 European Rabbit
(Oryctolagus cunuculus)
Have you noticed the barren "moonscape' along Pickett's Lane, the stretch with no grasses or wildflowers in sight? This is an example of how destructive the European rabbit can be. A nonnative species brought to the island in the late 1800s, they are destroying the prairie by digging extensive burrow systems. Fencing constructed in recent years prevents them from entering certain areas targeted for restoration, and additional ways to control them are currently under discussion.
One common misconception is that eagles and foxes will starve if rabbits are removed. While it's true that bald eagles and nonnative red foxes occasionally feed on park rabbits—particularly those killed by cars or farm equipment—studies show that up to 97 percent of the eagle's diet is composed of fish and birds, and the red fox diet ranges from berries and insects to birds and small mammals. In general, both are opportunistic feeders and frequently feed on available and abundant foods. Voles, for instance, are a delicacy for the red fox, yet studies show that the barren landscape created by the European rabbit is not suitable for small native mammals such as Townsend's vole. Removing rabbits would allow the habitat to regenerate and be home again to voles, mice, and other native mammals.