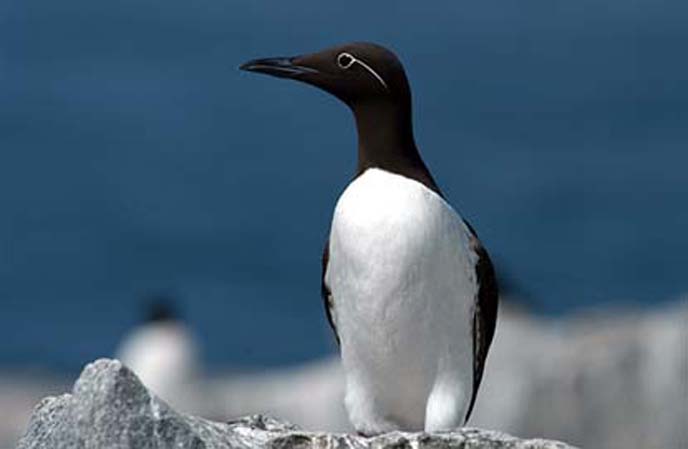 If you see a string of black and white birds flying swiftly across the surface of the water, chances are you're seeing a "bazaar" or "fragrance" of common murres. They are about 15 to 18 inches long, with short necks and long, straight bills.

During the breeding season, their heads are solid black; otherwise, the lower half of the face is white, with a black line running from the back of the eye through the white area.

They feed entirely by pursuit-diving, and are capable of diving to depths of more than 240 feet in search of prey such as small fish, shrimp, squid, crustaceans, mollusks, and worms. To dive, they partly extend their wings and propel themselves underwater, then snatch and carry a single fish lengthwise in their mouth, with the head of the fish held in the mouth cavity.

Here on San Juan Island, they are migratory and do not nest in the islands. But where they do breed, they choose sea stacks and flat-topped islands.

Common murres have the most densely packed nesting colonies of any birds. Nests are so close together that incubating adults are feather to feather on both sides. Droppings from these large colonies fertilize the food chain in surrounding waters.