Birds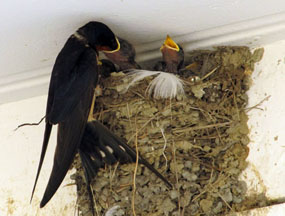 Mandy Lee
With more than 200 species and a varied habitat, many birders consider San Juan Island to be one of the best birdwatching areas in the state.

One reason is that because the volume of water equaling that of the Amazon River flushes from the Strait of Georgia through Haro Strait, the Salish Sea is a rich environment for birds. The Strait of Juan de Fuca is a major summer feeding area for rhinocerous auklets, tufted puffins, pigeon guillemots, and by summer's end, common murres, Cassin's auklets and the occasional forktailed storm petrel.

Some species reside in the park year around, some are seasonal residents and others pass through on seasonal migrations along the Pacific Flyway migration route, which passes through the San Juan Islands.

The Park's two units vary in their habitat types. American Camp ranges from prairie, shrubby thickets and mixed coniferous/hardwood forest to open saltwater, sandy and rocky shoreline and brackish lagoons. English Camp habitat includes a large, protected bay, mudflats, grassy bald and rocky slopes, open woodland and oak savanna, and wet coniferous forest.

On American Camp's rocky shorelines, listen for the piping calls of black oystercatchers, and look for surf scoters in protected bays and rafts of seabirds on the open water. Shorebird migration begins around July 1, when birds such as black-bellied plovers stop to feed in the prairie grasses. Fourth of July Beach and Jakle's Lagoon are big wintering spots for ducks, including buffleheads and Harlequin ducks as well as common loons.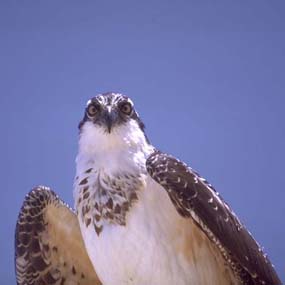 NPS Photo
In the woodlands of both camps, you'll find winter wrens, chestnut-backed chickadees and rufous hummingbirds. On the prairie, look for American goldfinches, great horned owls, and 18 varieties of raptors, from merlins to peregrine falcons to northern harriers. In spring you'll see Savannah sparrows and vesper sparrows, and winter is a good time to see migrating seabirds.

Major Threats
Landbirds are an important indicator of the effects of local and regional changes in ecosystems, and studies show that many species have significant declining trends. Landbirds as well as neotropical breeding migrants that fly south for the winter (which include the rufous hummingbird, Pacific-slope flycatcher, violet-green swallow, and yellow warbler) are threatened by loss of habitat on the wintering and breeding grounds and along migration routes, domestic cat predation, brown-headed cowbird parasitism, environmental contaminants, and climate change.

In an effort to enhance native habitats for breeding birds and increase overall biodiversity, the park monitors breeding bird populations on a biennial cycle, and is working on prairie restoration, Garry oak restoration and ways to control European rabbits at American Camp.

Feral Cat Control
In March 2013 the park took steps to counter feral cat threats by instituting a Trap Neuterand Return (TNR) program in concert with the Animal Protect Society of San Juan Island and the Ray of Hope Animal Sanctuary.

The traps are set at dusk at feeding points established by the park over a 10-day period in areas known to be frequented by the feral cats. They are checked each dawn. Entrapped animals are taken to the animal shelter where they are examined, spayed or neutered vaccinated and, if inappropriate for adoption, returned to the park. The also are tested for feline aids and leukemia as a safeguard to domestic cats in the area.

Neutered or spayed feral cats are readily identified by ear tipping, a procedure that involves removing about a quarter inch off the tip of the cat's ear while the cat is anesthetized during the TNR process. This helps distinguish between ferals and strays and avoids unnecessary surgery, confinement, or euthanasia.

The park utilizes "Have A Heart" traps that weigh about 17 pounds apiece. Ray of Hope is providing the traps while the Animal Shelter through a grant will pick up the funding for sheltering, surgeries and vaccinations.

"The best way, obviously, to treat with this problem is not to abandon a pet in the park," said Lee Taylor, park superintendent. "If this humane approach doesn't work, then we may have to consider other options.

Links

"Birds of San Juan Island National Historical Park" checklist: What to see at American and English Camps according to season.
http://www.nps.gov/sajh/planyourvisit/upload/sj_bird_checklist.pdf
1935 publication, "Birds of the San Juan Islands"
"North Coast Cascades Network Landbird Monitoring: Report for the 2008 Field Season"
"Landbird Monitoring Protocol for National Parks"
http://science.nature.nps.gov/im/units/nccn/vs/landbirds/landbirds.cfm
The Birds of North America Online
http://bna.birds.cornell.edu/bna
BirdWeb: Learn About the Birds of Washington State


Spring School Bird Field Guide

See how 11 Spring Street International School Seventh graders assembled a birding field guide for the 2014 BioBlitz and beyond. Click on the link below and go to iNaturalist. It's free. Try it out. Read More

Bird Checklist

San Juan Island NHP's bird checklist reflects the wide range of species passing through each year. Read More