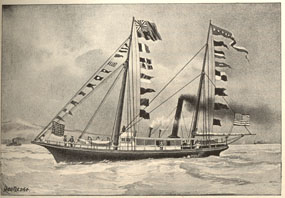 NPS
Allen's brief term at the American camp was without the major incidents that characterized some his predecessors. There was some controversy among British naval and colonial officials over Allen's rank of major. The joint military occupation convention prescribed that each garrison would have no more than a company (100) of soldiers/marines under the command of a captain. Delacombe contacted the provincial governor requesting that he be elevated to the temporary rank of major. The governor agreed, but the admiral vetoed the request as he believed it would not be well received among the rank and file on the pacific Station.
Allen's one bugaboo was that he could be rather punctilious about the U.S. soldiers maintaining a military bearing. Here is one order: "The wearing of civilian clothing or having it in their possession, by the enlisted men of this command is strictly prohibited." The soldiers also were forbidden from wearing waistcoats as well. Presumably this was to discourage desertion, which was not all uncommon at frontier posts where the men could go months without being paid and were enticed by gold strikes, free land and other attractions.

The attached document contains only two San Juan Island letters that survive, written in March 1868. By then the boys were 18, 16 and nine respectively. A daughter, Maud, would be born in January 1870 while Allen was in command of Fort Canby, also in Washington Territory.
Written mainly to her sister Carrie Riker in New Jersey, Mary Julia's letters start in March 1868 and conclude Sept. 4, 1872 from Sitka, Alaska, where Allen had been promoted to lieutenant colonel and became commanding officer of the Department of Alaska.
The letters reflect boredom, uncertainty and some of the pettiness bred by an idle mind far from home. Readers should be aware that they also reveal social and racial stereotypes common to the era. These come in the form of opinions about the efficiency of Chinese house boys and a U.S. officer's wife, whom she alludes may have been engaged in unsavory practices in her past and thus warranted shunning.
Click here to read the letters.

For a look at the complete set, contact park historian Mike Vouri at 360-378-2240, ext. 2227, or e-mail mike_vouri@nps.gov.