NPS Photo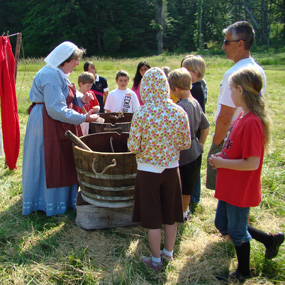 NPS Photo
San Juan Island National Historical Park preserves and protects nearly 1,800 acres on San Juan Island, including prairies, lagoons, forests and mountains, and more than six miles of saltwater shoreline. Under the park's protective watch are seven historic structures dating to the 1860s, a rich archeaological resource of prehistorical and historical objects, as well as habitats rich with plants and animals.

It makes for an exciting classroom. Where else can you:

Hear about how an American miner-turned-farmer almost started a war by shooting a neighbor's pig while gazing at the Olympic Mountains across the Strait of Juan de Fuca...

Work with a classmate to saw a log just the way the soldiers and marines did it when they built their camps in the island's 19th century wilderness...

Listen to woodpeckers drill and eagles call in the quiet forests of the Jakle's Lagoon trail, where one passes from mossy logs to prairie grasses in matter of minutes.

Remember to take only memories (and students!) home and leave only footsteps behind.

The above represent only a few of the range of opportunities for learning in the park. To find out more about education programs, please consult the menu at the top of this page.

Prairie Education

Local schools and summer science campers are extensively involved with prairie restoration. Read More