San Juan Islanders and Visitors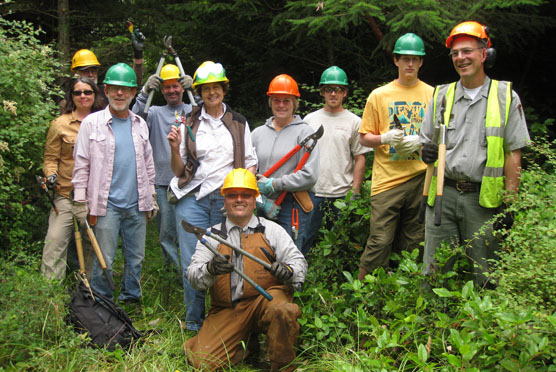 M. Karraker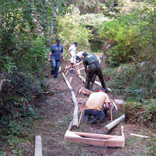 Mike Vouri
If you or your group would like to volunteer - or to receive more information on these and other volunteer opportunities with San Juan Island National Historical Park, please provide your name and contact informa­tion or call the Visitor Center at 360-378-2240 ext. 2233. To learn more about each opportunity please click on the links below.

Park Watch
The volunteer patrols park lands and boundaries to detect any evidence of illegal and suspicious activities and reports observations to the on-duty law enforcement ranger. The volunteer achieves park resource and visitor protection through an active program of The volunteer may perform patrols on foot, bicycle, horseback, or by vehicle.

Native Plant Nursery
Nursery Volunteers assist park staff in propagating and maintaining native plants for prairie restoration activi­ties. They may help park staff with sowing seeds; watering, weeding and maintaining container plants; and cultivating native plants and expanding nursery operations located at American Camp.

Seed Collection
Seed Collection Volunteers assist park staff in collecting seed from native plant species for use in habitat resto­ration activities. They help park staff with collecting, cleaning and organizing seeds of native grass and herba­ceous forbs (wildflowers).

Exotic Plant Control
Exotic Plant Control Volunteers assist park staff in controlling the spread of highly invasive exotic plant species and reducing competition with native plants. They help with manual control activities including cutting flowers/seed heads, chopping stems and hand-pulling non-native plants to remove or reduce the spread of non-native plants at American and English Camps.

Trail Maintenance
Trail Maintenance Volunteers assist park staff in maintaining trails throughout American Camp and English Camp by helping to keep trails clear of vegetation, debris, and litter. They may also assist park staff with other maintenance projects throughout the park depending on skills, availability and interest.

Interpretation-Roving
The volunteer generally rove both English and American Camps, greet visitors and answer questions. They maintain remote bulletin boards, monitor trail conditions and give visitors any safety messages required. They maintain radio contact with the visitor center.

Interpretation-Living History
The volunteer living history position(s) involves dressing in appropriate costume and generally demonstrating a historic trade or skill for visitors. These might include blacksmithing, carpentry, military drill, gardening and the like. A knowledge of the skill, and ability to safely demonstrate it, is required. In addition, a general knowledge of the 19th century and familiarity with the events on San Juan Island is helpful.

Visitor Center Desk
The volunteer generally assists park staff in operating the visitor center. Duties may include: meeting and answering visitor questions, operating simple AV equipment, bookstore sales and inventory stocking, keeping a log and raising and lowering flags. Simple housekeeping may also be required, such as dusting display cases, vacuuming, etc.