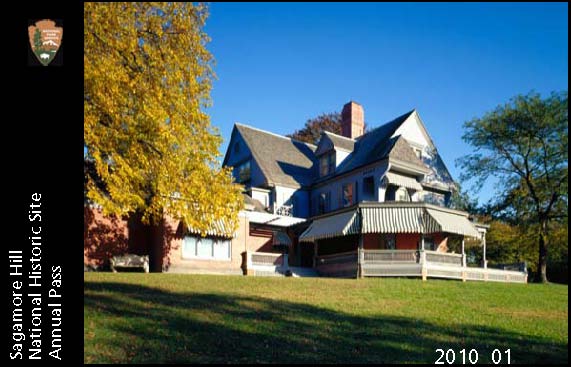 Sagamore Hill NHS Annual Pass - $20
For the cost of $20 anyone may purchase an annual pass to Sagamore Hill which will waive the Theodore Roosevelt Home tour fee for the cardholder and three additional persons for an entire year from the time of purchase.
Guided tours of the home are $5 per person (children 15 and under are free), so four adults on a one time tour would spend a total of twenty dollars.
The Sagamore Hill Annual Pass can be used only at Sagamore Hill National Historic Site. Visitors planning to attend several National Park System units or other Federal lands should purchase one of the Federal Passes listed above.
Annual Passes may be purchased at the Sagamore Hill Visitor Center between the hours of 9:00am and 5:00pm. The Visitor Center is open Wednesday through Sunday (open every day during the summer season; Memorial Day to Labor Day). Please note the pass does not cover organized groups and Sagamore Hill NHS and the National Park Service are not responsible for misplaced, lost or stolen cards.