Crews begin roadside shoulder work on Picture Rocks Road.

Starting Oct. 20-30 from 9:00am-2:30pm, crews will remove posts from previously illegal pullouts, clean out road culverts and overgrown vegetation. This work will not require any lane closures. Please slow down and be cautious around roadside workers. More »
Centennial Initiative 2016
The National Park Service turns 100 on August 25, 2016. To us, it's not about cakes and candles - it's about being an organization ready to take on the challenges of our second century. Our blueprint to get there - A Call to Action - outlines the innovative work we want to accomplish. Saguaro National Park is part of this effort. Take a look at what we're doing locally and get involved!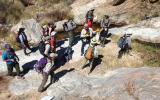 Graduate students came from all over the US to study the hydrogeology of spring-fed stream pools at Saguaro National Park during a "Park Break" spring break project at the park. The students did a fast but deep assessment of the geology and origin of water in these pools, and made recommendations for managing these small water sources that are so important for wildlife at the park. Read more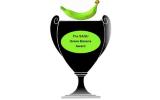 There are green bananas in Saguaro National Park? Yes in fact there are four of them, once per quarter, buildings are competing to reduce energy consumption. Saguaro highlights and quantifies the costs saving by presenting the "Green Banana Award" to the best performing energy reduction facility during All Employee Meetings. The award celebrates the facility with the highest energy percentage savings per quarter over the previous year. Read more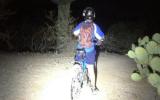 With support from the National Park Foundation, Friends of Saguaro National Park, Arizona Trails Association, Seeds of Steward Ship, Cirrus Visual, and the University of Arizona, Saguaro National Park was able to repair and improve several wash crossings along the new multi-use Hope Camp Trail. Now cyclists, equestrians, and hikers alike can share the trail and connect with nature and the spectacular viewsheds as they get started on the Arizona Trail. Read more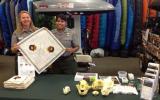 Through the creation of a Remote Sales program, the Fee Management staff from Saguaro National Park has been able to provide remote sales and outreach services at a number of community and commercial events throughout the Tucson metropolitan area. Read more »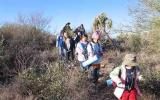 As school budgets shrink and visits by schools and community youth groups diminished, transportation funds from the Friends of Saguaro National Park rejuvenated visits, especially from targeted, underrepresented communities where budget cuts had the most pronounced effects. In 2011, between the BioBlitz and regular programming, an additional 4,000 young people visited the park that otherwise would not have. Read more »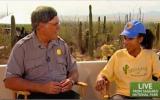 During the 2011 National Geographic BioBlitz, Saguaro National Park was able to bring over 2,300 students into the park for the event. Millions more were offered an opportunity to participate virtually though a National Park Foundation Electronic Field Trip. Read more »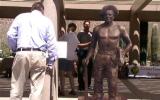 President Franklin D. Roosevelt signed the legislation on March 31, 1933 that launched the Civilian Conservation Corps. In the 9½ years that followed, more than 3 million young men worked in our National Parks, and other public lands and advanced the development of these areas. The CCC Recognition Day event brings together authors and historians, lecturers, and alumni of the program itself to interact with the public to inform them about this important facet of our history. Read more »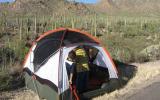 In October 2012, Saguaro National Park and the Intermountain Region hosted an overnight family camp at the park, with support from Western National Parks Association, the National Park Foundation and Alpino Mountain Sports with families attending from Roskruge K-8 School. Read more »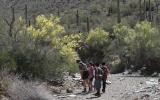 In order to inform Saguaro National Park's community engagement initiatives, in cooperation with the University of Idaho's Park Studies Unit, a series of 8 bilingual focus groups were conducted in the greater metropolitan Tucson area with 43 members of the local Hispanic community participating. The results of this research have provided insight to Saguaro National Park about how to more effectively engage the significantly underrepresented local Hispanic community. Read more »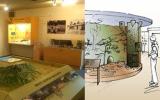 In 2012 Saguaro National Park began the process of overhauling the In 2012 Saguaro National Park began the process of overhauling the Rincon Mountain Visitor Center public space, with the generous help of the Friends of Saguaro National Park. Interior renovations to the building were finished in the fall of 2012 and work to design the new exhibits went into contract at the start of FY13. We anticipate installation of the final exhibit collection in the summer of 2014. Read more »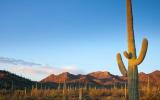 A new National Park Service (NPS) report for 2011 shows that the 610,045 visitors to Saguaro National Park spent $21.9 million in communities surrounding the park. This spending supported 294 jobs in the local area. Read more »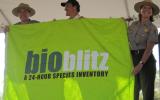 On October 21-22, 2011, Saguaro National Park became the fifth park to host the annual BioBlitz. Starting in 2006 and continuing until the 100th Anniversary of the National Park Service in 2016, the National Geographic Society and the National Park Service are sponsoring ten annual BioBlitzes, each a 24-hour scientific inventory and celebration of the diversity of life in a selected premier national park. These events are designed to make connections between parks, science, a Read more »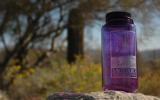 Saguaro National Park joined a growing number of parks and universities no longer using vending machines to sell disposable bottled water or soda on site. Read more »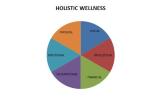 Saguaro National Park has implemented a self-motivation based Healthy Awards incentive program to help employees improve their health and wellness, which may ultimately save lives as well as reduce costs. Read more »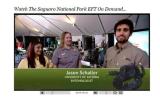 The Western National Parks Association supported scholarships for four graduate student projects as part of the 2011 BioBlitz at Saguaro National Park. Read more »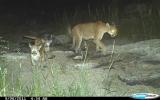 Saguaro National Park has teamed up with the Friends of Saguaro National Park to create a website of literally thousands of wildlife photographs from the park taken during a recent wildlife camera study. Read more »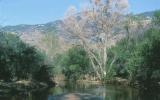 Saguaro National Park is engaged in a long-term partnership to better understand, monitor, and protect the park's rare desert waters, which include intermittent streams, perennial springs and stream pools known locally as tinajas. Read more »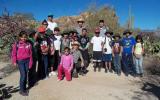 The Children's Hiking Club was formed in October, 2012, to introduce children from Summit View Elementary School to the joys and health benefits of hiking. Monthly after school club meetings and monthly Saturday morning hikes in Saguaro National Park have provided educational opportunities to learn about resource preservation, Leave No Trace hiking ethics, healthy eating habits and the benefits of physical activity. Read more »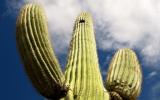 Since 2010, Saguaro National Park has partnered with the Udall Foundation's Parks in Focus program and the Boys and Girls Clubs to bring youth to the park to learn about and photograph the park. In 2012, the partnership was expanded, with the help of an America's Best Idea grant from the National Park Foundation, with program participants on a backpacking trip into the park's wilderness. Photos from the program have been exhibited in the park's Visitors Center. Read more »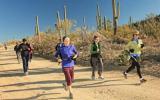 This 5 mile run is part of a community-wide initiative to get more people outside recreating, enjoying the area's open spaces, and making a commitment to improve our collective physical and mental health. Read more »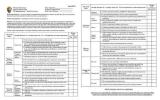 Saguaro National Park developed a metric to stimulate discussion about overall culture and track successes and areas for improvement. Read more »

Youth interns work, hike, and help study the changing desert southwest while pursuing a career pathway with the National Park Service. Read more »

Youth interns work, hike, and help study the changing desert southwest while pursuing a career pathway with the National Park Service. Read more »
Did You Know?
The saguaro cactus only grows naturally in the Sonoran Desert. There are approximately 1.6 million individual saguaro plants growing within Saguaro National Park.