Sculptural Visions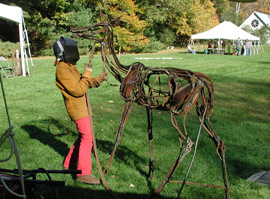 On Saturday, September 29, 2012, from 11:00 a.m. to 4:30 p.m., Saint-Gaudens National Historic Site in Cornish, N.H., will hold its sixth annual Sculptural Visions event celebrating the many forms of sculpture. Artists will demonstrate different sculptural techniques, such as modeling with clay, carving of wood and stone, welding, assemblage and using paper to cast a sculpture. At 1:00 and 3:00 p.m., two sculptures will be cast in bronze during a demonstration of "lost-wax" bronze casting. Throughout the afternoon there will also be hands-on sculpture activities and a performance on a Fire Organ. The event will happen rain or shine, and the park and event will be free admission all day.
Visitors to the event will be able to interact with artists using many different methods and materials to create sculpture, from figurative to abstract. Included are carvers, sculpting in both stone and wood and others working with clay and steel.
Glen Campbell, owner of an artist foundry in West Rutland, Vermont, and utilizing a portable furnace, will cast two bronze sculptures using the ancient "lost wax" bronze casting method. This was the same process used by Augustus Saint-Gaudens to cast everything from his beautifully detailed portrait reliefs to heroic-size public monuments such as the Shaw Memorial and Farragut Monument, all of which are exhibited at the park. Actual casting demonstrations like this are rarely seen by the general public.
Hands-on sculpture activities for children will be offered and include making reliefs out of clay or by embossing special foil, and creating a plaster, three-dimensional cast of their hand. Artist, Adam Blue, from AVA Gallery in Lebanon, a co-sponsor of the event, will offer visitors an opportunity to create and record an assemblage sculpture from a stock of widely diverse materials. Throughout the afternoon there will be performances by Antoinette Jacobson on her Fire Organ, a sculpture that can be used as an instrument. Ingeniously created from metal pipes, the organ is actually played using a blowtorch, resulting in an unusual and extraordinary sound.

Saint-Gaudens National Historic Site is located off NH Route 12A, just north of the Cornish-Windsor covered bridge. The site celebrates the studios and home of the great American sculptor, Augustus Saint-Gaudens. The park is open daily through October 31, from 9:00 a.m. to 4:30 p.m. For information on seasonal offerings, write: Saint-Gaudens National Historic Site, 139 Saint-Gaudens Road, Cornish, NH 03745; phone: (603) 675-2175 x 107; or visit the website: www.nps.gov/saga
Did You Know?

Augustus Saint-Gaudens was an artistic advisor for the 1893 Columbian Exposition. Calling it the greatest gathering of artists since the Renaissance, he designed the obverse of the Fair's commemorative medallion.