Parnell Monument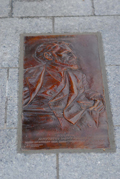 Centenary Plaque Unveiled in Dublin, Ireland

On Thursday, October 25, 2007, over a hundred people gathered at the foot of the Charles Stewart Parnell Monument on O'Connell Street in Dublin, Ireland, to witness the unveiling of a centenary bronze plaque to the sculptor Augustus Saint-Gaudens. It may not be well-known in America that Saint-Gaudens was born in Dublin on March 1, 1848, but the family emmigrated to New York City when Augustus was six months old.

Councilor Paddy Bourke, Lord Mayor of Dublin, and American ambassador, Thomas E. Foley, unveiled the plaque, which was set into the base of the monument. A reception followed in the Sculpture Hall of the Hugh Lane Gallery, where an exhibit of photographs illustrated the major works of Saint-Gaudens.

The Parnell Monument commemorates the Irish Nationalist, Charles Stewart Parnell (1846-1891). The artist worked with great diligence to complete the monument to Parnell, despite suffering from cancer, and was the last of his public monuments that he saw through to completion. The monument arrived in Dublin just before the artist's death in 1907. The dedication of the work occurred in 1911, after other parts of the monument, including the base and 57 foot granite obelisk, were completed.

The centenary plaque was made by former Sculptor-in-Residence, Lawrence J. Nowlan, who worked at the park for five years (1995-1997, 2002-2003). Mr. Nowlan now has a studio in Windsor, Vermont, and specializes in relief portraiture and large-scale monuments.
Did You Know?

Augustus Saint-Gaudens was one of the first people to eat corn flakes. The cereal was invented by John and Will Kellogg in 1894 and commercially produced in 1906. Saint-Gaudens corresponded with Dr. John Kellogg in his later years and was prescribed Corn Flakes as a health food.