Sea Music Festival: September 13, 2014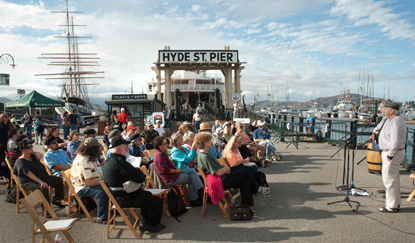 NPS
This summer we'll celebrate another long-standing maritime tradition with the Sea Music Festival at Hyde Street Pier. Be sure to join us for a day of heartfelt singing and sweet instrumentals from a talented crew of local musicians and nationally-renowned performers. Join us for a day and evening of traditional music from around the world.
When: Saturday, September 13, 2014 from 9:30am-5:00pm.

Where: From two stages on Hyde Street Pier, and onboard the historic vessels Balclutha and Eureka.

Admission: Hyde Street Pier and Visitor Center, free. Boarding fees for the historic vessels: Adults, $5, ages 15 and under, free. Free with National Park passes. For more Information call 415-447-5000.
Experience traditional songs of the sea with performers: John Roberts and Debra Cowan, James Kelly, Shay Black, Holdstock and Macleod, Geoff Kaufman and Craig Edwards, Nemenzo Tahitian Dance Company, Hai Yan Jackson Chinese Dance Company, Hank Cramer, Amelia Hogan, Carol Holdstock, Dogwatch Nautical Band, The Lighthouse Stringband, Gibb Schreffler, Celeste Bernardo, Revell Carr, Dave Nettell, Riggy Rackin, Peter Kasin and Richard Adrianowicz, The Jammy Dodgers, Brass Farthing, Kenny Somerville, Erin Thompson, Sierra-maria Magdalena, Maggee Van Speybroeck, Michael Kahan, Erin Conner, Kathy Daskal, Steve Canright.
Sea Music Festival schedule -- including names of performers and what time they will be performing. If you can, please make a copy of the schedule and bring it with you. Thanks!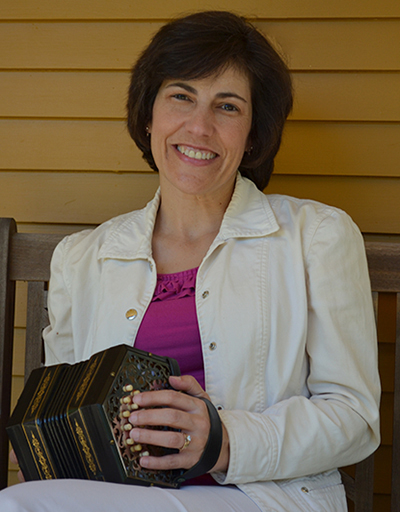 Celeste Bernardo
Celeste Bernardo has worked as an interpreter, educator, and manager for twenty-five years at maritime sites in New York, Connecticut, California, and Massachusetts. Along the way, she collected songs to interpret people's relationship with the sea. Accompanying herself on the anglo concertina, guitar, or 5-string banjo, her repertoire includes sea chanteys and traditional songs of the sea. She holds a Master's degree in history from Northeastern University and is a graduate of Mystic Seaport's Munson Institute of American Maritime Studies. She can be heard on recordings of Mystic Seaport's 22nd, 25th, and 32nd Sea Music Festivals.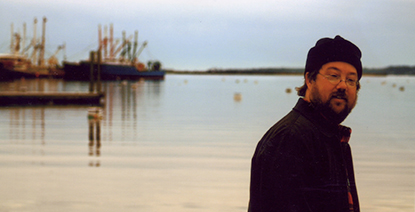 Revell Carr
Revell Carr is a folklorist and ethnomusicologist specializing in the music of seafaring cultures. In the 1990s he was an interpretive specialist at the San Francisco Maritime National Historical Park, and he has worked at several other maritime museums, including Mystic Seaport Museum and the Columbia River Maritime Museum. Revell is now associate professor of ethnomusicology at the University of North Carolina at Greensboro, where he directs the UNCG Old Time Ensemble and teaches courses on world music and American vernacular traditions. His first book, Hawaiian Music in Motion: Mariners, Missionaries, and Minstrels, about the role of sailors in the development of Hawaiian popular music in the nineteenth century, will be published by University of Illinois Press in October 2014.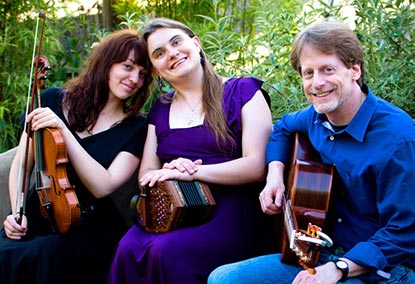 The Jammy Dodgers
The Jammy Dodgers are a hot new Irish traditional band featuring fiddle, flute, concertina, tin whistle, banjo, guitar, and vocals. They bring intricate, creative, innovative arrangements to driving high-energy jigs and reels and soulful two-part harmony Irish Gaelic songs to make for an exciting and enjoyable musical experience.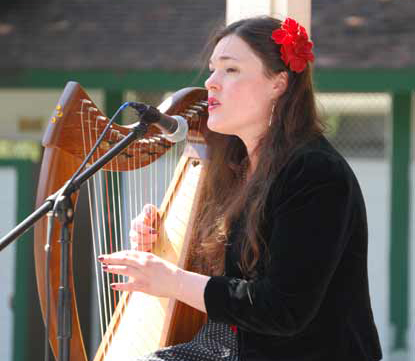 Amelia Hogan
Amelia Hogan is a singer of traditional Irish, and American Folk Songs weaving myth, history, humor, and play into every one. For 30 years she has graced stages from Killarney, to Seattle, San Francisco to New York, and has been lucky enough to have been singing songs of a Maritime flavor at the Hyde Street Pier since 1983. Her recently released audio album, Transplants: From the Old World to the New and Music Video of Paddy's Green Shamrock Shore details the historic journey from Old World to America. Listen as she takes you back, into the lives of your own ancestors.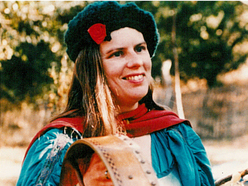 Erin Conner
Erin Conner started singing traditional songs of the British Isles in the streets of Renaissance Faire in the 1980s. Now she tells the stories of our time in songs written in traditional style. A street singer in the truest sense of the word, she has busked from San Francisco to Dublin and back again in pursuit of new music and new experiences. One bodhrán, one clear voice, and stories that span the ages.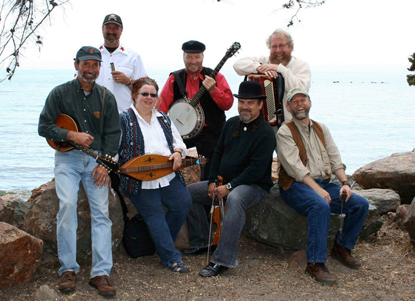 Dogwatch Nautical Band
The Dogwatch Nautical Band has been heaving, hauling, and belaying around the San Francisco Bay since 1978, when they got their start singing sea chanteys, foc'sle songs, and playing dance tunes for the early days of the Great Dickens Christmas Fair. Without straying too far from their roots, the Dogwatch sound has evolved over the years to include river boat songs, ballads, and even a spirited New Orleans funeral procession.
Dogwatch is regularly featured at the Northern California Pirate Festival in Vallejo, and at venues including Crab Cove, Quinn's Lighthouse, and High Street Station in their home port of Alameda.
Dogwatch is always delighted to make port at Hyde Street Pier, whether it be for the Sea Music Festival, the monthly chantey sings, or warming up the youngsters for Cap'n Claus when they help celebrate Christmas at Sea.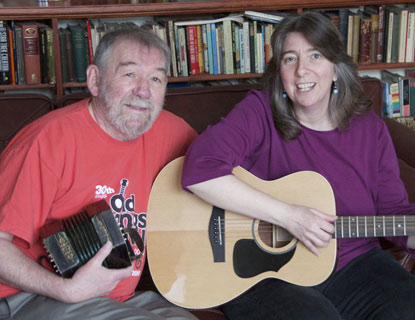 Photo courtesy Debra Cowan
John Roberts and Debra Cowan accompany themselves on concertina and guitar singing traditional and contemporary songs from across the English-speaking world.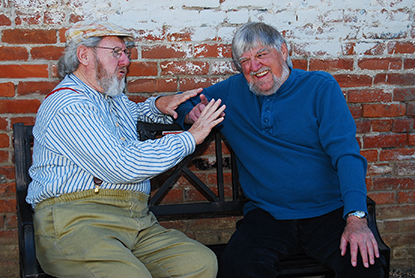 Holdstock and Macleod
Holdstock and Macleod are still enthusiastically performing together after 30 years. Dick and Allan perform authentic renditions of the songs of their homelands of England and Scotland. Captivating audiences from coast to coast, they trade off on guitar and mandolin for accompanying their songs, as well as singing without accompaniment. Hearing their music is always a memorable event and an extraordinary glimpse into a not so distant maritime past. New insights into history and old customs are revealed through their songs.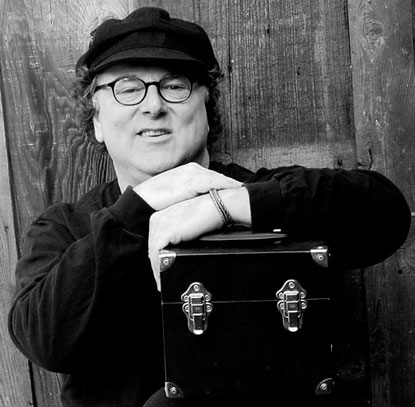 Riggy Rackin
Riggy Rackin cut his traditional music teeth in New York's Greenwich Village at a tender age. Since traveling to England in the early 1970s, he has accompanied his own singing with an English concertina, and has done so for several Sea Music luminaries on their recordings, as well.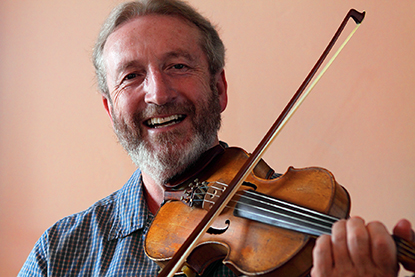 James Kelly
James Kelly, a native of Ireland, is one of the greatest Irish traditional fiddlers alive today. He learned his music from his father John Kelly, the renowned fiddle and concertina player from County Clare. James began his recording and touring career at age sixteen. That year he won first place in the prestigious "Fiddler of the Year" competition and recorded his first album, a duet with his brother John. Since that time, James has toured Europe, the US, Canada, and South America, and has been a member of several influential Irish groups including the legendary folk group, Planxty. In the U.S. James has performed several times on Garrison Keillor's national radio show, "A Prairie Home Companion." He has 18 albums to his credit and is currently compiling his over 1500 compositions for publication.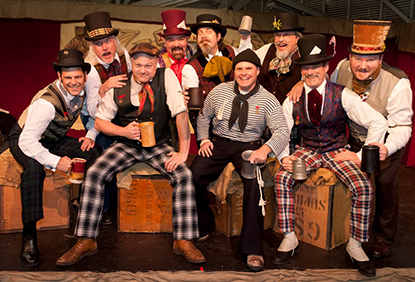 Brass Farthing is a group of stalwart lads brought together to sing songs, raise good cheer, and otherwise make merry in the company of friends both old and new. Since 2006, the San Francisco Bay Area group has charmed audiences at the Dickens Christmas Fair, Renaissance Faires, Maker's Fair, the Exploratorium, San Francisco Maritime National Historical Park, and even the occasional local watering hole. Winners of first place in the 2011 Bay Area Harmony Sweepstakes, they also took home top honors for audience favorite and best original song, "I Love You More Than Beer." With three albums of traditional and original music, these smartly dressed boys are sure to bring you along on their sing along journey through the ages!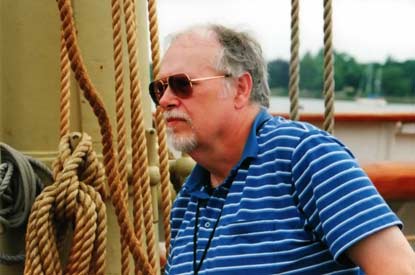 Richard Adrianowicz
Richard Adrianowicz has been involved in folk music since the 1970s, when he moved to California from Chicago. He performed with a number of bands, notably "Out of the Rain," recording two cassette tapes with them. The band was active from 1980 to 1996, performing songs of Ireland, Scotland, England and America in the San Francisco Bay Area. When the group disbanded Richard decided to concentrate on nautical music and started attending the chantey sings at Hyde Street Pier. In 2000 he recorded a solo chantey CD, "Time Ashore is Over." Richard has performed at Mystic Seaport, Hyde Street Pier, and the Shanty Retreat run by Hank Cramer in Washington. Last year he gave a lecture/demonstration on chantey singing for a folklore class at Stanford University. Richard has also appeared at the Chicago Maritime Festival in 2011 as a guest performer.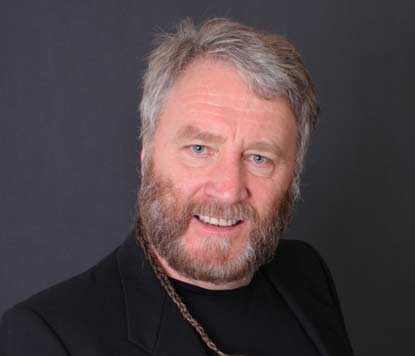 Shay Black
Shay Black is an avid song catcher, musician and singer and is known for his extensive knowledge of songs and music from the Irish, English and Scottish traditions, as well as songs and shanties from sea faring traditions. Born in Dublin, Ireland, he moved in 1994 to Berkeley, CA from Liverpool, where he had lived for the previous twenty years. While in Liverpool, he toured and recorded with Irish band Garva, the illustrious Stan Hugill and the fabled sea shanty group Stormalong John.

When Shay performs, his music creates a sheer celebration of singing which he generously shares with his audience. The material is quintessentially Irish, ranging from traditional to humorous to new songs. His time touring and recording with Stan Hugill gave him a love of sea music and shanties. He always welcomes audience participation, and his infectious humor, wit, and unalloyed joy in singing make it difficult for anyone to remain a spectator for long!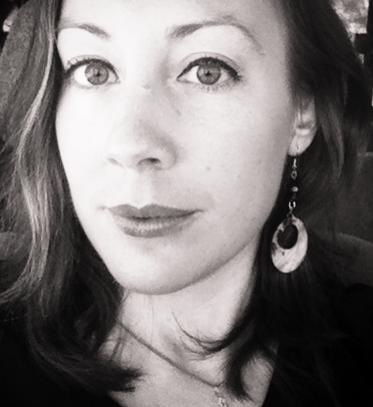 Erin Ruth Thompson
Erin Ruth Thompson, originally from Tucson, Arizona, arrived in the Bay Area in 2012 shortly after living in Hawai'i for a year. While attending college, Erin wrote songs, playing guitar and piano, and did a good deal of backup singing and keyboard playing for local Tucson bands. After landing in the Bay Area, Erin quickly fell in love with traditional Irish music, singing at Irish sessions and at the monthly chantey sings aboard Balclutha, and has been following her heart down this path ever since.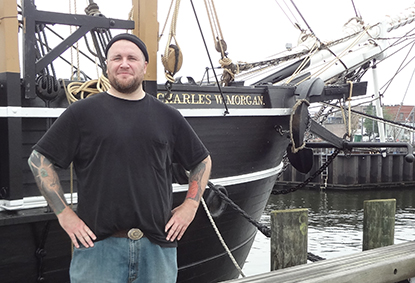 Gibb "Ranzo" Schreffler
Gibb "Ranzo" Schreffler is a dynamic performer with a powerful voice, which he uses to engage the public with the historical repertoire and aesthetics of chantey singing. Since 2008, his YouTube series has documented a project of systematically learning and demonstrating interpretations of every known chantey (currently at well over 600 items). Gibb's chantey videos, perhaps despite the performances being entirely sung in the customary unaccompanied manner, have garnered some two million views and provided reference and inspiration to performers, students, and a popular video game. A musicologist and professor at Pomona College, he bridges the worlds of performance and scholarship through a process wherein each practice continually informs the other. Gibb engages developing generations directly in "guerilla" performances outside of the typical folk music purview and as Director of the Pomona College Chanty and Maritime Music Ensemble.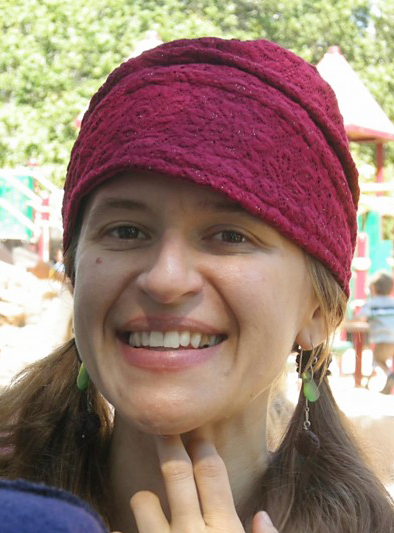 Sierra-maria Magdalena
Sierra-maria Magdalena. The family story goes that, as a child, deprived of lullabies by a mother who believed she could not sing, Sierra-maria sang herself to sleep at night (and awake in the morning and all the hours in between). She has continued to sing for pleasure into adulthood. After relocating to Berkeley in 2012 from her home state of Vermont, she began mentorship with two great Bay area singers, Mary Mc Laughlin and Lily Storm, and takes part at the monthly chantey sings at Hyde Street Pier. Since then she has focused her singing on traditional song from around the world, with a special love for traditional Irish singing, sean-nos. She has impressed audiences at music gatherings with her sensitive renditions of traditional songs. This will be her first professional appearance. We expect to hear more in the years to come from this talented young singer.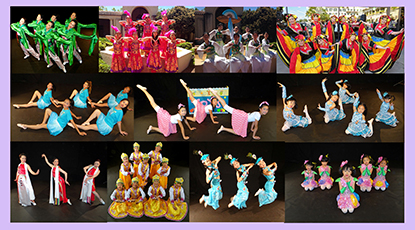 Hai Yan Jackson Chinese Dance Company
Hai Yan Jackson Chinese Dance Company. Artistic Director Hai Yan Jackson trained in Ballet and Classical Folk Dance at the Sichuan Dance Academy in Chengdu, China. After graduation, she worked at the Sichuan Opera & Dance Company. Hai Yan has more than 30 years experience in dance as a dancer, instructor and choreographer. In addition to being a Stanford Chinese Dance guest instructor, she also teaches at the Alonzo King LINES Dance Center, and is the Artistic Director of Hai Yan Jackson Chinese Dance Company. In 2013, at San Francisco City Hall, Hai Yan received a Special Commendation Award for her dedicated services in many community events. She has had numerous guest performances and choreographed throughout China and the Bay Area.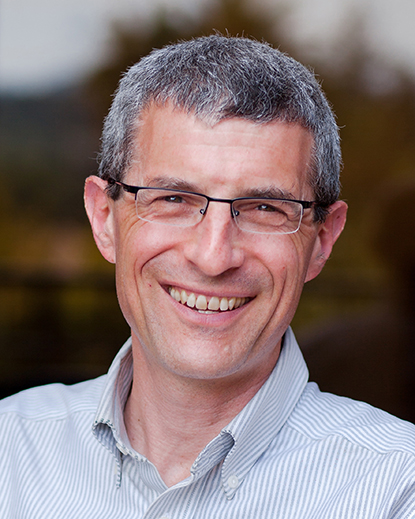 Michael Kahan
Michael Kahan grew up in the Hudson Valley of New York State, where the performances of local legend Pete Seeger helped him develop a strong interest in folk music of many genres, languages, and places. As an adult he has pursued this interest with friends, school children, and fellow members of the San Francisco Folk Music Club. He can be heard singing backup in Russian and Yiddish on "The Upward Flight: The Musical World of S. An-sky," a companion CD to The Worlds of S. An-sky (Stanford University Press). Michael discovered a passion for sea music some ten years ago at a Saturday night chantey sing aboard the Balclutha, and is delighted to be making his debut at the Sea Music Festival this year.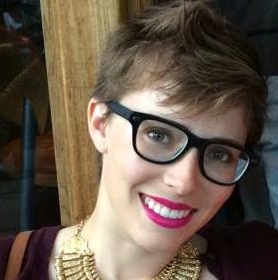 Maggee VanSpeybroeck
Maggee VanSpeybroeck is thrilled to be singing at the Sea Music Festival. Originally from Arcata, California, Maggee studied classical voice performance at the University of Kansas before heading to the Eastman School of Music in Rochester, New York for graduate work in musicology and ethnomusicology. Due to a stressful class on Monday evenings during her first semester, Maggee found herself at a small Irish pub in Rochester where she discovered Irish music and fell in love with it. In order to participate more fully in session life, she took up the concertina. When she is not singing or playing the concertina, she is the Executive Director of the Cypress String Quartet.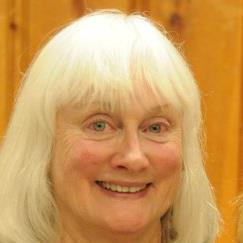 Carol Holdstock
Carol Holdstock is a performer of contemporary and traditional music of the sea. Her extensive repertoire of songs about women and the sea, as well as her songs of social significance, are always bound to please her audiences. Whether accompanying herself with her autoharp, singing a'capella, or singing with others, she delights audiences with images of bygone times and words of hope for a more compassionate future.
A native of San Francisco, Carol began singing as a child in children's theater. She went on to perform in New York as an actress and folksinger. Carol has appeared in festivals and concerts in California, Oregon, Washington, Connecticut, Virginia, Maine, Texas, and Massachusetts, as well as in England, Germany, and Canada. With her husband, Dick Holdstock, she has recorded the CD, "Shanties and Sea Songs from Way Out West."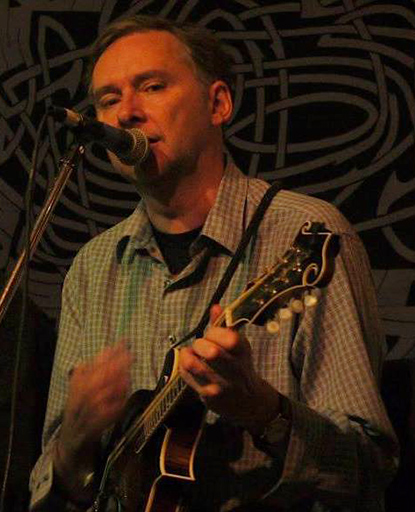 Kenny Somerville
Kenny Somerville grew up in rural County Fermanagh, Ireland, on a small farm. As a child, he learned songs from his mother's singing, the radio, and an old windup gramophone that had been a wedding present to his grandparents. His first instrument was the guitar, and he later took up the banjo. Kenny has always loved traditional Irish music, but not having a family member or friend who played it, it wasn't until he moved to Galway that he started to learn to play it. Eventually he moved to San Francisco and Irish music became a greater part of his musical life. Kenny sings and plays banjo and guitar in the Irish band The Gasmen, and at music sessions in and around San Francisco.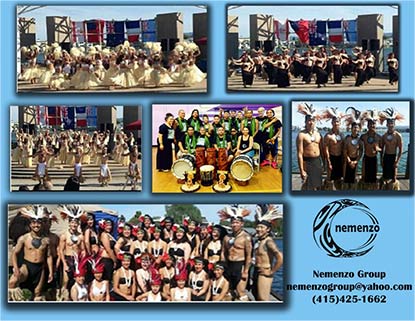 Nemenzo Tahitian Dance Company
Nemenzo Tahitian Dance Company opened its doors in its Daly City location at 699 Serramonte Blvd. #240, Daly City, CA, in 1996 under the direction of Elizabeth Nemenzo Bertumen and Nene Nemenzo. We are a family based organization. Our primary focus is in Tahitian Drumming and Dancing. In addition to instructing students from ages five years to adults, we also compete locally and in Nevada, Hawaii and Tahiti.