Teachers Pope and Guzman Join Ranger Ranks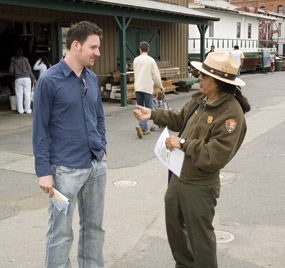 NPS
Last summer the park was fortunate to welcome two San Francisco public elementary school teachers, Marseille Pope and Rubén Guzmán, as park employees in the Teacher to Ranger to Teacher (TRT) program.
Marseille and Rubén arrived in late June, donned the NPS uniform, and immediately immersed themselves in learning maritime history and developing educational programs for the public. They had to rapidly learn the ropes of working at a national park. Their duties included opening and closing the park, staffing the information desk, and presenting programs to visitors.
As if that wasn't enough for eight weeks of employment, they also tackled some special projects. Marseille began work on a traveling trunk that will be filled with hands-on maritime activities aimed at first through third graders.
Rubén, whose first language is Spanish, offered his educational programs in English and Spanish, and worked with several employees to develop programs to best reach the Spanish speaking public. He also researched and translated the park's Junior Ranger Program and park safety information. This will be the first time the Junior Ranger program will be available in a second language.
The TRT program aims to engage teachers from under-served schools that are not currently being reached with park programs, and pays particular attention to school districts with large, ethnically diverse populations.
This past October Marseille and Rubén returned to the park with their classes for a ranger-led tour. The students boarded the ships, helped raise a sail on the park's historic square-rigged ship Balclutha, and sang a sea chantey.
Rubén and Marseille will continue to draw on their summer experience and incorporate NPS themes into their lessons. In April 2008, during National Park Week, they will wear their uniforms to school and do a special program on National Parks.
The park plans on continuing the TRT program for the 2008 summer season. For more information, and how to apply, please call Park Ranger John Cunnane at 415-561-7170.