Hyde Street Pier Closed Mondays through Thursdays (July 24 - August 20)

For public safety, Hyde Street Pier will be closed mid-pier Mondays - Thursdays from July 24 - August 20 during replacement of Eureka's mooring piles. There is no access to the historic ships. The visitor center, Maritime Museum & Aquatic Park are open.
First Bloom and Yick Wo School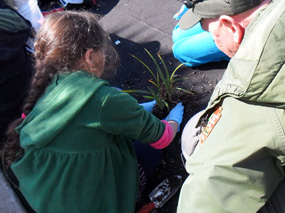 NPS
The students cut through the black felt-like material covering the soil, dug a hole, took the young plant out of the temporary pot and planted it in the garden.

Did You Know?

This is Native American consultant Linda Yamane posing with the tule reed canoe she constructed for a new exhibit in the park's visitor center. "The Waterfront" exhibit opened in 2012 and features an historic walk around San Francisco's waterfront. More...