Ferryboat EUREKA closed for maintenance.

Ferryboat EUREKA is closed for maintenance. The gangway that links the ship to the pier is being repaired.
First Bloom and Yick Wo School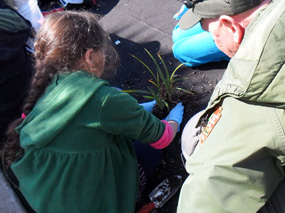 NPS
The students cut through the black felt-like material covering the soil, dug a hole, took the young plant out of the temporary pot and planted it in the garden.

Did You Know?
That the San Francisco Maritime National Historical Park is the repository for the original San Francisco Marine Exchange cards that were used to track vessel arrivals into San Francisco? This collection, (HDC 0559, SAFR 18592) also includes ledger books that record vessels arriving into and departing from San Francisco. More...