Ferryboat EUREKA closed for maintenance.

Ferryboat EUREKA is closed for maintenance. The gangway that links the ship to the pier is being repaired.
First Bloom and Yick Wo School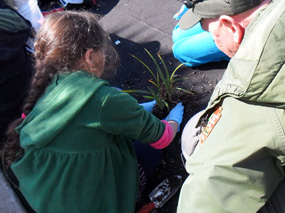 NPS
The students cut through the black felt-like material covering the soil, dug a hole, took the young plant out of the temporary pot and planted it in the garden.

Did You Know?

EUREKA is a wooden-hulled, sidewheel paddle steamboat. From the passenger deck up, she is nearly identical fore and aft. Her "double-end" design made disembarking quicker and easier. EUREKA'S large "walking beam" steam engine remains intact. More...