Ferryboat EUREKA closed for maintenance.

Ferryboat EUREKA is closed for maintenance. The gangway that links the ship to the pier is being repaired.
What do you feed a steaming donkey?
 What do you feed a steaming donkey? 
The donkey was up and steaming this past Wednesday. See for yourself. 
Come down to Hyde Street Pier on April 17, 2013 for our next "steaming" day.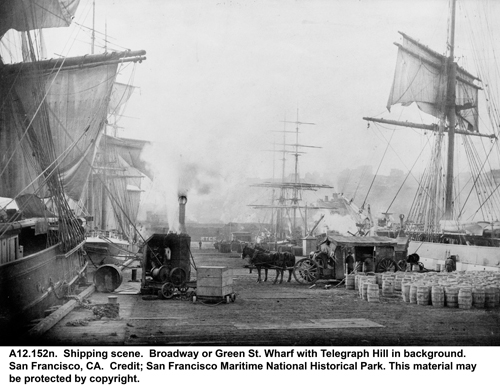 Can you find the steam donkey in this photo? Hint: It's not the four-legged version. 
Steam donkeys were a common power source for loading and unloading cargo from ships during the late 1880s and into the 1920s.
Post A Comment
Did You Know?
Children also went to sea with their families. Here a boy feeds the chickens standing on a load of lumber stowed on the deck of a lumber schooner. More...