Hyde Street Pier Closed Mondays through Thursdays (July 24 - August 20)

For public safety, Hyde Street Pier will be closed mid-pier Mondays - Thursdays from July 24 - August 20 during replacement of Eureka's mooring piles. There is no access to the historic ships. The visitor center, Maritime Museum & Aquatic Park are open. More »
What do you feed a steaming donkey?
 What do you feed a steaming donkey? 
The donkey was up and steaming this past Wednesday. See for yourself. 
Come down to Hyde Street Pier on April 17, 2013 for our next "steaming" day.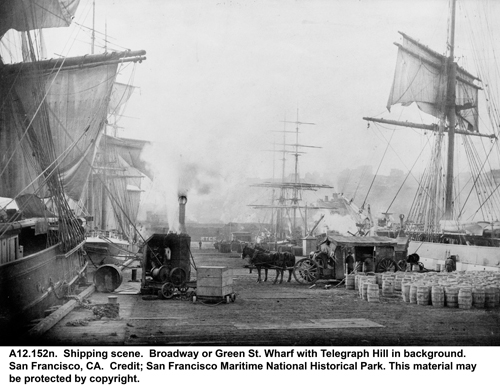 Can you find the steam donkey in this photo? Hint: It's not the four-legged version. 
Steam donkeys were a common power source for loading and unloading cargo from ships during the late 1880s and into the 1920s.
Post A Comment
Did You Know?

A modern container ship slips behind Balclutha on its way to port. Ocean routes are still the major highways of the world. Balclutha, moored at San Francisco Maritime NHP, was an ocean-going cargo ship for 43 years, between 1886 and 1929.