Ferryboat EUREKA closed for maintenance.

Ferryboat EUREKA is closed for maintenance. The gangway that links the ship to the pier is being repaired.
Visiting Hyde Street Pier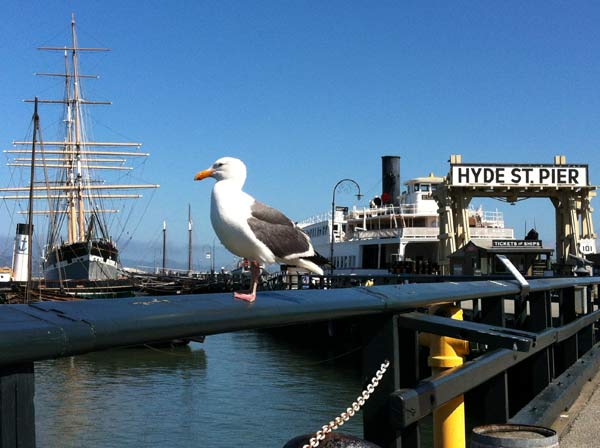 A wooden railing runs along both sides of Hyde Street Pier. It is a wonderful walk out to the end of the pier and the railing is a good place to lean and take in the spectacular view of the Bay, Marin Headlands, and the Golden Gate Bridge (and much more). We ask visitors not to climb or sit on the rails for their safety but we make an exception for the above (frequent) visitors.
Post A Comment
Did You Know?
Did you know the Park has journals that date back to the California Gold Rush? We recently added an account of a 220 day voyage from New York to San Francisco. The 1849 journal describes daily routines, a hurricane, and passing ships. Morrison (built 1832; ship) journal (HDC 1595, SAFR 22220). More...