Ferryboat EUREKA closed for maintenance.

Ferryboat EUREKA will be closed beginning March 11 through the end of the month for ongoing maintenance.
Snowy Egrets on Aquatic Park beach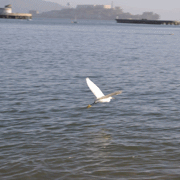 Post A Comment
Did You Know?

San Francisco Maritime is the only NPS site that has a cable car turnaround adjacent to the park. Riders disembark and workers push the cars around on the track to position them for the next journey back up steep Hyde Street.