See a piece of once-buried Gold Rush history in the museum
NIANTIC, a Gold Rush-era sailing ship lay buried at the intersection of Clay and Sansome streets for many years. This piece of her stern is on display in the museum. Go here  www.nps.gov/safr/historyculture/nianticjournals.htm  to read more about her fascinating history and the people connected to her.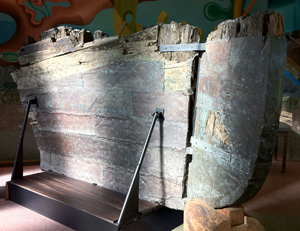 Post A Comment
Did You Know?
Did you know the Park has journals that date back to the California Gold Rush?  We recently added an account of a 220 day voyage from New York to San Francisco.  The 1849 journal describes daily routines, a hurricane, and passing ships.  Morrison (built 1832; ship) journal (HDC 1595, SAFR 22220). More...