See a piece of once-buried Gold Rush history in the museum
NIANTIC, a Gold Rush-era sailing ship lay buried at the intersection of Clay and Sansome streets for many years. This piece of her stern is on display in the museum. Go here  www.nps.gov/safr/historyculture/nianticjournals.htm  to read more about her fascinating history and the people connected to her.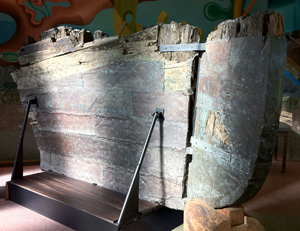 Post A Comment
Did You Know?

Clipper cards were small, often colorful cards issued to advertise specific voyages from one port to another, usually from Boston or New York to San Francisco. Their heyday was the late 1850s to early 1860s. More...