Ferryboat EUREKA closed for maintenance.

Ferryboat EUREKA is closed for maintenance. The gangway that links the ship to the pier is being repaired.
See a piece of once-buried Gold Rush history in the museum
NIANTIC, a Gold Rush-era sailing ship lay buried at the intersection of Clay and Sansome streets for many years. This piece of her stern is on display in the museum. Go here  www.nps.gov/safr/historyculture/nianticjournals.htm  to read more about her fascinating history and the people connected to her.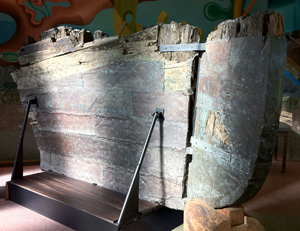 Post A Comment
Did You Know?

ALMA was built in 1891 in a little boatyard on the southernmost bay front of San Francisco, just north of Hunters Point Navy Yard. She mostly worked in the South Bay carrying salt from the southern salt ponds. She has been rebuilt several times and now sails on the Bay often, carrying passengers. More...