Ferryboat EUREKA closed for maintenance.

Ferryboat EUREKA is closed beginning March 11 through the end of the month for maintenance. The gangway that links the ship to the pier needs to be raised so it can be repaired.
See a piece of once-buried Gold Rush history in the museum
NIANTIC, a Gold Rush-era sailing ship lay buried at the intersection of Clay and Sansome streets for many years. This piece of her stern is on display in the museum. Go here  www.nps.gov/safr/historyculture/nianticjournals.htm  to read more about her fascinating history and the people connected to her.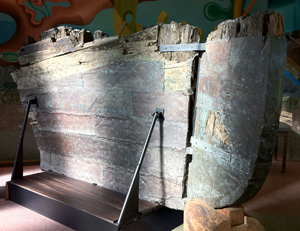 Post A Comment
Did You Know?

The GRACE QUAN is a replica of the type of fishing vessel used throughout the Bay Area by Chinese shrimp fishing companies between 1860 and 1910. She was built by San Francisco Maritime and California State park staff and volunteers in 2003. More...