Ferryboat EUREKA closed for maintenance.

Ferryboat EUREKA is closed for maintenance. The gangway that links the ship to the pier is being repaired.
See a piece of once-buried Gold Rush history in the museum
NIANTIC, a Gold Rush-era sailing ship lay buried at the intersection of Clay and Sansome streets for many years. This piece of her stern is on display in the museum. Go here  www.nps.gov/safr/historyculture/nianticjournals.htm  to read more about her fascinating history and the people connected to her.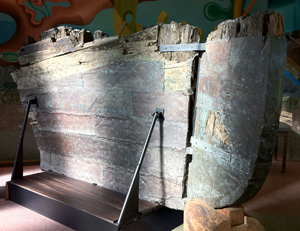 Post A Comment
Did You Know?

The 1895-built lumber schooner C. A. Thayer returned to Hyde Street Pier at San Francisco Maritime NHP in 2007 after an extended dry-docking to rebuild her hull. Twenty percent of her older timbers were saved and the rebuilding of her deckhouses is underway. More...