Rope and Line and Wire..Oh My!
The end of a piece of wire rope is laying on the rail up against the white bulkhead, and a coil of manila line is hanging from the belaying pin. This photo was taken aboard BALCLUTHA.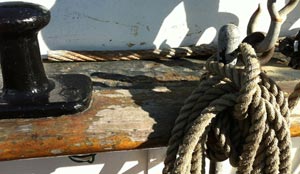 For a bit more about rope, line, and wire go here http://www.nps.gov/safr/historyculture/rope.htm

Post A Comment
Did You Know?

The Aquatic Park Bathhouse building, a Depression-era, Works Progress Administration (WPA) project, was completed in 1939. The art deco building includes tile mosaics of fish, marble floors that resemble a sea chart, and interior walls painted with murals depicting strange creatures of the deep. More...