Ferryboat EUREKA closed for maintenance.

Ferryboat EUREKA is closed for maintenance. The gangway that links the ship to the pier is being repaired.
Rope and Line and Wire..Oh My!
The end of a piece of wire rope is laying on the rail up against the white bulkhead, and a coil of manila line is hanging from the belaying pin. This photo was taken aboard BALCLUTHA.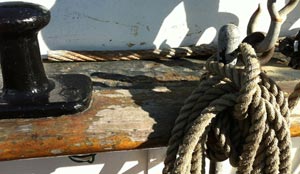 For a bit more about rope, line, and wire go here http://www.nps.gov/safr/historyculture/rope.htm

Post A Comment
Did You Know?

San Francisco Maritime is the only NPS site that has a cable car turnaround adjacent to the park. Riders disembark and workers push the cars around on the track to position them for the next journey back up steep Hyde Street.