Hyde Street Pier Closed Mondays through Thursdays (July 24 - August 20)

For public safety, Hyde Street Pier will be closed mid-pier Mondays - Thursdays from July 24 - August 20 during replacement of Eureka's mooring piles. There is no access to the historic ships. The visitor center, Maritime Museum & Aquatic Park are open. More »
Rope and Line and Wire..Oh My!
The end of a piece of wire rope is laying on the rail up against the white bulkhead, and a coil of manila line is hanging from the belaying pin. This photo was taken aboard BALCLUTHA.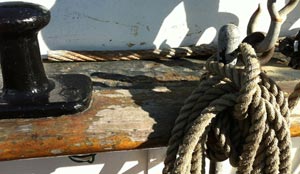 For a bit more about rope, line, and wire go here http://www.nps.gov/safr/historyculture/rope.htm

Post A Comment
Did You Know?

"The coldest winter I ever spent was a summer in San Francisco." Many attribute this phrase to Mark Twain, however the origin is unknown. It is a good thing to remember when visiting San Francisco Maritime during the summer. Don't forget a coat, as the summer fog keeps temperatures in the city cool.