Rope and Line and Wire..Oh My!
The end of a piece of wire rope is laying on the rail up against the white bulkhead, and a coil of manila line is hanging from the belaying pin. This photo was taken aboard BALCLUTHA.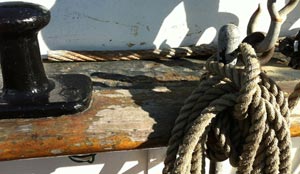 For a bit more about rope, line, and wire go here http://www.nps.gov/safr/historyculture/rope.htm

Post A Comment
Did You Know?

The spar extending from the bow of the 1895 lumber schooner CA THAYER, is 59 feet long, with its rigging weighs 8,500 pounds, and is made of a single piece of Douglas fir. More...