Passport Program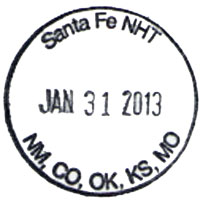 The popular Passport to Your National Parks program is available at sites on the Santa Fe National Historic Trail. A variety of trail partners offer the passport stamp for trail travelers.
We suggest that you verify directions and hours of operation to be sure you can get the Santa Fe National Historic Trail stamp.
To learn more about the passport program and to purchase a passport book, visit: www.eparks.com
(last updated February 19, 2014)
Missouri
Alexander Majors House NHRP
8201 State Line Road
Kansas City, MO 64114
816-333-5556
www.visitkc.com/member-details/index.aspx?id=10413#
Arrow Rock State Historic Park Visitor Center
P.O. Box 1
Arrow Rock, MO 65320-0001
660-837-3330
www.mostateparks.com/arrowrock/viscenter.htm
Fort Osage National Historic Landmark
105 Osage Street
Sibley, MO 64088
816-650-3278
http://www.jacksongov.org/fortosage/
Harry S. Truman National Historic Site
223 North Main Street
Independence, MO 64050-2804
816-254-2720
www.nps.gov/HSTR/index.htm
National Frontier Trails Center
318 West Pacific
Independence, MO 64050
816-325-7575
www.ci.independence.mo.us/nftm/
Trailside Center
9901 Holmes Road
Kansas City, MO 64131
816.942.3581
www.trailsidecenter.org/
Kansas
Barton County Historical Society
PO Box 1091
85 South Highway 281
Grent Bend, KS 67530-1091
620-793-5125
http://bartoncountymuseum.org/
Coronado/Quivira Museum
105 West Lyon
Lyons, KS 67554
620-257-3941
http://cqmuseum.org/
Cimarron National Grassland
USDA Forest Service
242 East Highway 56; P.O. Box 300
Elkhart, KS 67950
620-697-4621
www.fs.fed.us/r2/psicc/cim/
Fort Larned National Historic Site
1767 KS Hwy 156
Larned, KS 67550-9321
620-285-6911
www.nps.gov/fols/index.htm
Historic Adobe Museum
300 East Oklahoma
Ulyssess, KS 67880
620-356-3009
http://skyways.lib.ks.us/towns/Ulysses/museum.html
Kaw Mission State Historic Site
500 Mission
Council Grove, KS 66846
620-767-5410
www.kshs.org/places/kawmission/
Lanesfield School Historic Site
18745 South Dillie Road
Gardner, KS 66021
913-893-6645
Mahaffie Stagecoach Stop & Farm
1200 Kansas City Road
Olathe, KS 66061
913-971-5111
www.olatheks.org/mahaffie/about
Morton County Historical Museum
East Highway 56
Elkhart, KS 67950
620-697-2833
www.mtcoks.com/museum/
Santa Fe Trail Center
Route 3 Box 137, K-156 Highway
Larned, KS 67550
620-285-2054
www.santafetrailcenter.org/
Shawnee Indian Mission State Historic Site
3403 West 53rd
Fairway, KS 66205-2654
913-262-0867
www.kshs.org/places/shawnee/

Colorado
Bent's Old Fort National Historic Site
35110 Highway 194 East
La Junta, CO 81050-9523
719-383-5010
www.nps.gov/beol/index.htm
Boggsville Historic Site
P.O. Box 68
Las Animas, CO 81054
719-384-8054
www.phsbc.info/boggs.htm
Comanche National Grassland (2 units)
Carrizo Unit
27204 Highway 287, Springfield, CO 81073
Timpas Unit
1420 East 3rd, La Junta, CO 81050
719-523-6591
719-384-2181
www.fs.fed.us/r2/psicc/coma/
Trinidad History Museum
300 East Main Street
Trinidad, CO 81082
719-846-7217
www.historycolorado.org/museums/trinidad-history-museum-0

Trinidad Lake State Park
32610 Highway 12
Trinidad, CO 81082
719-846-6951
http://parks.state.co.us/parks/trinidadlake

New Mexico
Fort Union National Monument
P.O. Box 127
Watrous, NM 87753
505-425-8025
www.nps.gov/foun/index.htm
Herzstein Memorial Museum
South Second and Walnut
P.O. Box 75
Clayton, NM 88415
575-374-2977
www.herzsteinmuseum.org/
Kiowa National Grassland
714 Main Street
Clayton, NM 88415
575-374-9652
www.fs.fed.us/r3/cibola/districts/kiowa.shtml
Las Vegas Citizen's Committee for Historic Preservation (CCHP)
116 Bridge Street
Las Vegas, NM 87701
505-425-87701
www.lvcchp.org/
National Park Service
Old Santa Fe Trail Building
1100 Old Santa Fe Trail
Santa Fe, NM 87505
505-988-6888
Palace of the Governors
105 West Palace Avenue
Santa Fe, NM 87505
505-476-5200
www.palaceofthegovernors.org/index.php
Pecos National Historical Park
P.O. Box 418
Pecos, NM 87552-0418
505-757-7200
www.nps.gov/peco/index.htm
Santa Fe Trail Museum
606 Maxwell Avenue
Springer, NM 87747
505-483-5554
Did You Know?

Trade on the historic Santa Fe Trail was a complex web of international business, social ties, tariffs, and laws. Merchants in Missouri and New Mexico had extended connections to New York, London, and Paris!