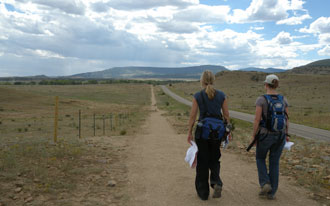 NPS
Take a Hike on the Santa Fe Trail!
In partnership with the NPS, the Philmont Scout Ranch has marked their new four-mile hiking trail as the original route of the Santa Fe Trail (Spring 2013). It links important historic trail sites in Cimarron to the Philmont Museum at ranch headquarters, creating a complete national historic trail experience for local users and visitors. "The new trail is one of only a few places where the public can walk part of the historic route through a landscape the Santa Fe Trail traders would still recognize today," said Aaron Mahr, NPS Superintendent of the Santa Fe National Historic Trail.
Philmont staff constructed the trail along New Mexico Highway 21 for community use by ranch staff, visitors, and area residents. The project is typical of cooperative national historic trail development, with the NPS providing the signs to highlight the national significance of a trail project also designed to meet local needs.
Part of the Beaubien-Miranda (Maxwell) land grant, the trail era settlements of Cimarron and Rayado were famous stops along the Mountain Route of the Santa Fe Trail. With the decline of the trail in the 1870s, the grant was broken up into a number of large ranches. In 1922 a part of the original grant was acquired by Waite Phillips, who donated two large tracts of the property to the Boy Scouts of America in 1938 and 1941, for use as a national wilderness camping area for scouts. Today trail-era buildings still stand both in old town Cimarron and at Rayado, which is managed by the Philmont as a historic site and museum.
The Santa Fe National Historic Trail is administered by the NPS, National Trails Intermountain Region (NTIR). NTIR works with partners to protect, develop, and promote national historic trails for public use and benefit.
Learn more about the Philmont Scout Ranch, the Santa Fe National Historic Trail, and the National Trails System by visiting the following websites:
Philmont Scout Ranch, www.philmontscoutranch.org
Santa Fe National Historic Trail, www.nps.gov/safe
National Trails System, www.nps.gov/nts