Kaw Nation and the Santa Fe Trail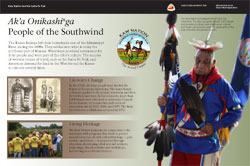 The success of western routes of travel, such as the Santa Fe Trail, and American demand for land in the West forced the Kaw Nation (Kanza) to relocate several times. Three exhibits about the Kaw and the impacts of the trail are placed in Council Grove, Kansas, at Kaw Mission Historic Site, and Larned, Kansas, at the Santa Fe Trail Center. Exhibits were designed in collaboration with the Kaw Nation and funded by the National Park Service's Challenge Cost Share Program and the Santa Fe Trail Association.
To view all three exhibits, click here (1.2 MB pdf, 3 pages).