Sainte Croix Accueil
Le début d'une présence Européenne permanente dans le nord de L'Amérique Du Nord.
L'hiver de 1604-1605 sur l'île Sainte-Croix fut cruel pour l'expédition française de Pierre Dugua. Prisonniers des glace entourant l'île, privés d'eau fraîche et de gibier, 35 des 79 hommes moururent. Quand le printemps arriva et les Autochtones échangèrent du gibier contre du pain, la santé des survivants s'améliora. Même si l'expédition reprit sa route en été, la présence européenne dans le nord de l'Amérique du Nord venait de commencer.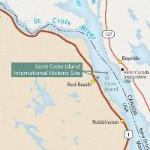 NPS
Planifiez votre visite
Itinéraire, cartes, heures et saisons d'ouverture, coût et réservations, activités, à savoir, et plus.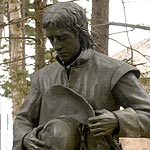 NPS
Histoire et culture
La ligne du temps des 400 ans de l'île Sainte-Croix et plus.


NPS
Pour les professeurs
La Trousse interprétative de Sainte-Croix 1604, la trousse Passamaquoddy, et
plus
.
NPS
Nouvelles
Une cérémonie solennelle commémorant le 400ème anniversaire de la colonie française sur l'île Sainte-Croix. Plus

NPS
Gestion
La gestion du lieu historique international de l'Île-Sainte-Croix est déterminée par sa mission. Plus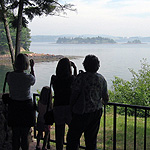 NPS
Foire aux questions
Qui, quoi, où, quand, pourquoi, comment, et plus.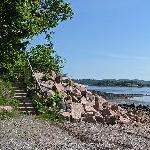 NPS
Climat
A mi-distance entre l'équateur et le pôle Nord, ce site est exposé aux conditions météorologiques typiques de la côte est du Maine. Les brises de mer en été donnent une impression de fraîcheur. Les températures oscillent entre 70 et 80° F (21-27° C).
Did You Know?

Saint Croix Island was originally called "Muttoneguis" by the Native Americans who had used it for many years before the French arrived. The island is protected today as part of Saint Croix Island International Historic Site.