The Riverway Above Riverside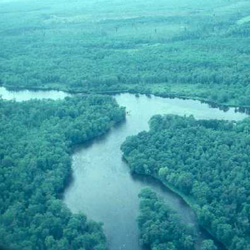 NPS
The upper St. Croix and the entirety of the Namekagon River are much narrower and wilder rivers than the rest of the National Park. The rivers run through generally undeveloped, diverse terrain featuring dense deciduous and coniferous forests, marshlands and pine barrens. Banks vary from low to high. Paddlers will be closer to both banks of the river and have much better opportunities to enjoy nature and wildlife from up close. As a result of the relatively smaller size of the rivers in several sections, navigation can be a bit more exciting because of numerous low-water rapids as well as the tighter meandering turns and oxbows. You never know what's around the next corner!
For a narrower and more exciting adventure, the St. Croix from Gordon Dam to Riverside Landing, as well as the Namekagon

from Namekagon Dam to Cable Wayside and then from Stinnett to Big Bend, are particularly good. However, these areas are especially susceptible to low water, so be sure to check river levels before you come. Also consult the paddle guides for more directional details.
There is great cold water trout fishing on the Namekagon River between Cap Creek Landing and Phipps Flowage in April, May, and early June.
The areas around Trego Flowage, Lake Hayward, and the section of river just after the Hayward Dam have a significant amount of residential development. Also, the section of river from Earl Landing to the Namekagon River Visitor Center is a very popular destination for tubers.
See Pictures of the Upper St. Croix and Namekagon River .
Ranger Recommended Paddles in the upper park:
Big Bend to Namekagon Visitor Center (Near Trego)
County K to Whispering Pine (Near Trego)
Whispering Pine to McDowell (Between Trego and Danbury)
Interactive Maps in the upper park:
Map 1 - Namekagon Dam to Hayward [pdf]
Map 2 - Hayward to Trego [pdf]
Map 3 - Trego to Riverside Landing [pdf]
Map 4 - Gordon Dam to Riverside Landing [pdf]
Paddling Guides - detailing water features by rivermile:
Return to Plan Your Visit
Did You Know?

Mussels rely on fish to carry their young around until they are old enough to drop to the river bottom. To attract the fish and attach their young, mussels put on displays that make fish think they are fish or other food. The mussel shell, which is all we normally see, is now barely visible.